For the coffee connoisseur, you'll want to have a grinder that's perfect for your Aeropress.
Here we'll review 4 of the best coffee grinders for Aeropress.
If you believe in taking the time to grind your coffee for that perfect blend, you'll be interested in reading our top picks for best coffee grinders for the Aeropress.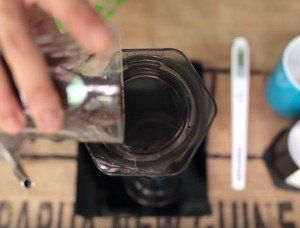 Let's get started!
---
Porlex Mini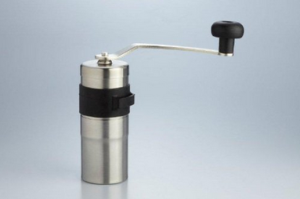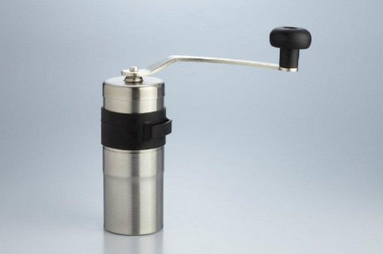 Grind Range
The conical ceramic burrs grind in a range from fine to coarse.
If you're thinking in terms of coffee types, it'll grind beans for Espresso or French press.
Body Durability
The stainless steel body means you don't have to worry about it banging into other equipment in your kitchen.
This also makes it a great travel grinder when you're going camping or want to take it with you on a business trip.
Travel is always better when you can bring your own coffee grinder.
Specifications:
47 mm diameter

130 mm height

Capacity of 20 grams

It weighs 9.6 ounces
Pros
The Porlex Mini is a beautiful stainless steel, but has a silicon grip that will keep it from slipping through your fingers while grinding.
This is important in a manual burr grinder.
Users of the Porlex Mini report that they're able to remove the bottom of the grinder and put the entire unit inside the Aeropress, which makes this incredibly convenient for Aeropress owners.
They'll be able to grind directly into the coffee maker.
Cons
This isn't for more than a cup or two of coffee, which makes it a great personal coffee grinder, but not convenient if you have guests or family who want coffee.
Read our full review of the Porlex Mini here
---
Rednax Hand Crank Modern Burr Grinder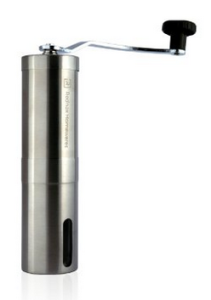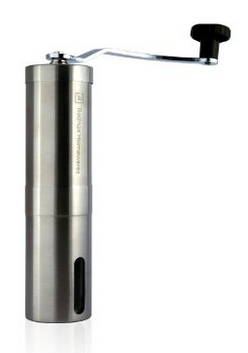 Grind Range
The Rednax hand coffee grinder allows you to adjust the settings for a variety of coffes from French press, pour over, Espresso, drip, percolator or Turkish. This makes it perfect for the Aeropress.
Body Durability
This is a stainless steel ceramic burr grinder that will stand up over repeated use.
You can pack it in with your camping gear, take it on the train or a plane to your destination without worrying that it'll be jostled in your bags.
Specifications:
Product dimensions are 2 x 2 x 7.5 inches

It weighs 7.4 ounces
Pros
With all the settings enabling you to create grinds of any size, the Rednax also provides you with an ergonomic handle for producing finer grinds, which can take longer to do by hand.
Comes with a measuring scoop and a cleaning brush to ensure your grinder is always in pristine condition for each grind.
The unit has a small window to allow you to peek at the progress of the grind. There's also room for a grind of 4 tablespoons, or the equivalent of 3-4 cups of coffee.
Cons
This small grinder is perfect for smaller serving sizes, which might not be ideal for some people's needs.
Read our full review of the Rednax manual grinder here
---
Onyx Kitchen Premium Ceramic Manual Grinder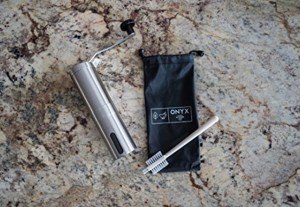 Grind Range
The ceramic burr grinder is adjustable to create grinds from fine to coarse depending on the kind of coffee you want to enjoy that morning.
Body Durability
The stainless steel of the Onyx manual coffee grinder means it's corrosion resistant and lightweight for hand grinding.
Specifications:
1.9 x 1.9 x 7.5 inches

9.4 ounces in weight
Pros
This manual grinder is easy to disassemble and reassemble for cleaning. Some dark roast beans are quite oily, which requires cleaning to keep the unit pristine for the next grind.
It's the perfect size for travel and can be packed in your luggage, hiking backpack or with your camping equipment. It's durable for those locations, too. 
Cons
Some users don't want any plastic in their grinders. This one has a small plastic peep window for viewing the grinds as they progress.
---
Bevalig Ceramic Conical Coffee Grinder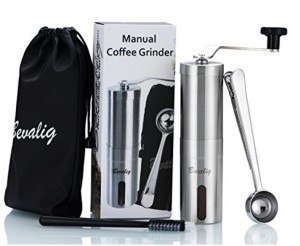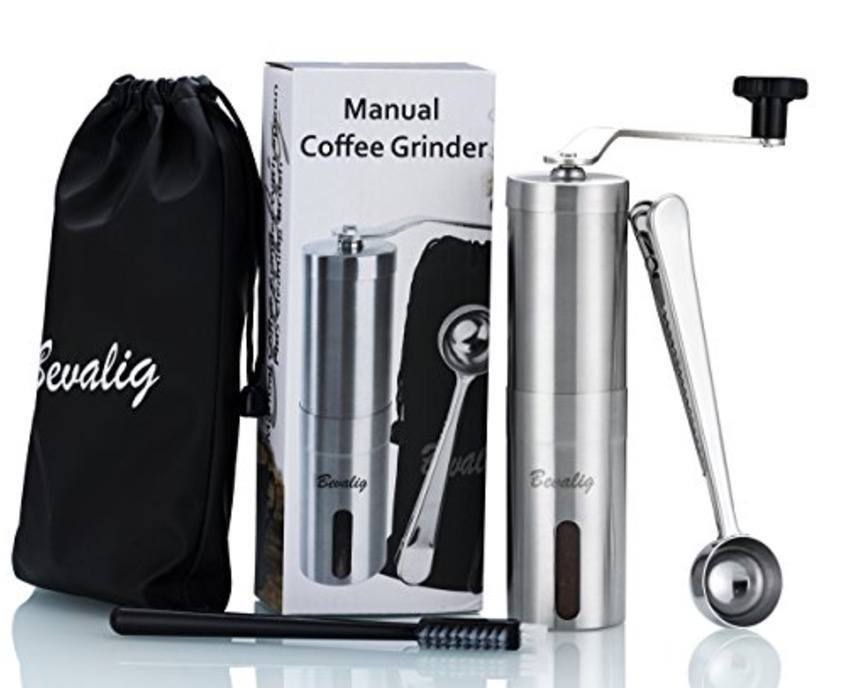 Grind Range
This grinder has 18 settings to give you the perfect grind for your coffee beans. Whether you want to an extra fine grind or a coarse one. Some people use this grinder for herbs and spices because it has such a broad range of grinds available.
Body Durability
With a stainless steel body, this grinder will last for a very long time. You don't want to beat on your grinder, but if it accidentally falls or gets banged around while traveling, it'll stand up to the abuse.
Specifications:
Dimensions: 2.5 x 3.5 x 9 inches

The grinder weighs 6.4 ounces
Pros
The grinder comes with accessories like a travel pouch, cleaning brush and scoop for the perfect amount of beans. The scoop has a clip to keep your bag of beans closed tight.
The 18 click settings for a variety of grind sizes. This means you can try different coffees depending on your mood that day and be able to use the same grinder.
Cons
The only con we can think of for this grinder is the size of the container to hold the beans, but it should be expected that you can't make an entire pot of coffee with this personal size grinder.
Read our Q&A with Aeropress where we ask them every question we could think of to get the inside scoop!