When you're looking at an espresso or cappuccino maker for home use, there are plenty of options. However, this may easily confuse you, and you'll end up making a mistake. That mistake might cost you $50, but it might cost you a lot more, too.
There are options, however, that don't cost too much, and make a mean cup of coffee. One such option is the Capresso EC50 espresso machine.
It's a small, home user-oriented coffee maker, and takes little to no counter top space. If you aren't extremely picky about your coffee (and you really can't be if you're on a budget), it'll make you an excellent cup of coffee. If you're after a good brewer that won't cost too much, you ought to read Capresso EC50 review, as this might be the one to go for.
Build and Specs of The Capresso EC50 Coffee and Espresso Machine
Are you looking for a quality coffee and espresso machine that doesn't break the bank? If so, then you should consider the Capresso EC50. This machine is perfect for both coffee aficionados and novice brewers alike, and it offers a variety of features that will help you create the perfect cup of joe every time. Keep reading to learn more about the EC50 and why it's such a popular choice among coffee lovers.

When you consider that it's a budget-oriented machine, you might set your expectations low.
But even if you have high expectations, the EC50 will at least meet them, if not exceed them.
The size, as we mentioned, is just right. It's 11 1/2″ high, 7 1/4″ wide and 10 1/4″ long.
This makes it suitable for putting on a counter top, if you don't want it in your way.
It weighs 8 lbs, so you can easily move it, if needed, as well.
The reservoir is at the back, and it has a capacity of 42 oz. You can make quite a few cups of coffee before you need to refill it.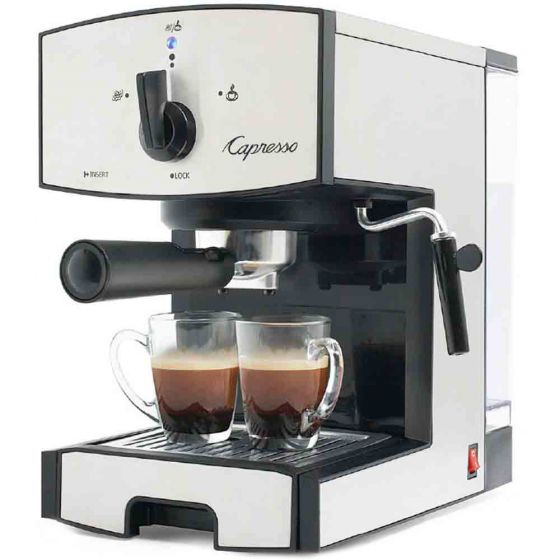 The whole body of the Capresso EC50 is plastic, but you wouldn't notice it.
There's a layer of stainless steel on the outside, which makes it feel a bit more expensive than it actually is, and it looks a lot better.
I do have a plastic coffee maker at home, and yes, it looks a lot cheaper when put next to the EC50.
At the front, you'll find the control panel.
It's dead simple, and regardless of how much of a morning person you are (or aren't), you'll find your way around it.
You'll also fin a stainless steel thermoblock on the top, which will warm your cups before you brew your coffee.
Sure, this isn't a necessity, but a shot of espresso is a lot better when you consume it from a warm cup, especially in the morning.
Features of The Capresso EC50 Coffee and Espresso Machine
The Capresso EC50 Coffee and Espresso Machine is a fast, easy-to-clean machine that makes perfect espresso every time. The 15 bar pump stainless-steel lined Thermoblock provides the ultimate crema, while the removable water tank makes filling a breeze. The high pressure frothing creates the perfect frothing action for cappuccinos or lattes, and the stainless steel housing with black accents looks great on any countertop.

The Capresso EC50 is a coffee and espresso machine that has a variety of features to make your brewing experience better
It has a built-in burr grinder to grind your beans fresh for each cup
The machine also has an adjustable conical burr grinder so you can customize the grind size to your liking
You can make two cups of coffee at once with the double boiler system
The EC50 also comes with a milk frother so you can make cappuccinos and lattes at home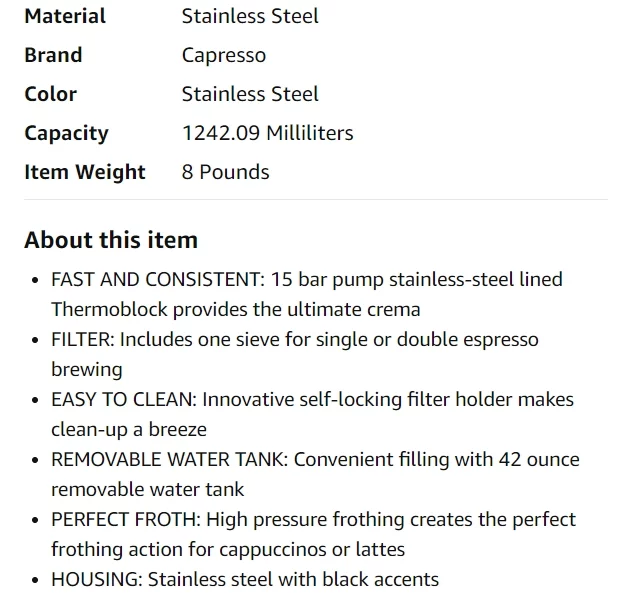 All is gree Capresso EC50 Coffee and Espresso Machineat in the inside of The Capresso EC50
The pump that's inside can reach up to 15 bars of pressure.
Even though pressure is just a single component among many when making espresso, it's an indicator that you'll get good, thick crema.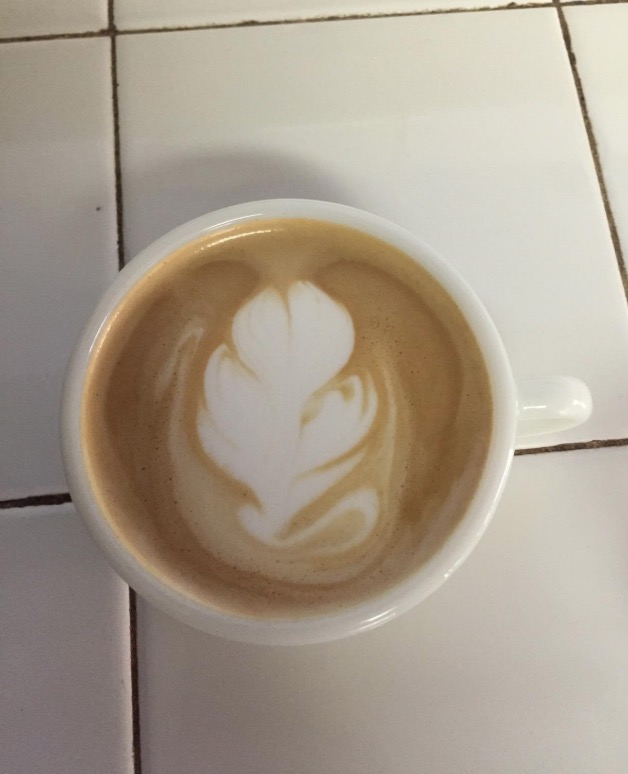 There's another thing you don't find with many budget coffee makers - a swivel frother. The truth is, not everyone loves espresso that much. Some people prefer a latte, or a cappuccino.
The EC50 will let you do both. There are two positions, one for steamed milk, for latte, and another one for frothed milk, for cappuccino.
The frother is easy to use, and you can adjust it for a frothing pitcher or tall glass.
Making a coffee with the Capresso EC50
The Capresso EC50 is easy to use. It does require a bit of time to warm up. We'd recommend that you give it 5 to 6 minutes.
Yes, this is a bit long, but it'll be worth it. You can prepare the porta-filter in the meantime.
Fill the porta-filter with coffee. You'll want to grind your coffee just right. I'd recommend a good conical burr coffee grinder for that job.
Too fine, and it'll clog the machine.
Too coarse, and coffee will come out really fast, leaving you with under-extracted coffee.
Tamp it well with the included tamper.
While you're waiting, you can put your cup(s) on the tray on the top. As mentioned earlier, this'll warm them up, making for a much better tasting coffee.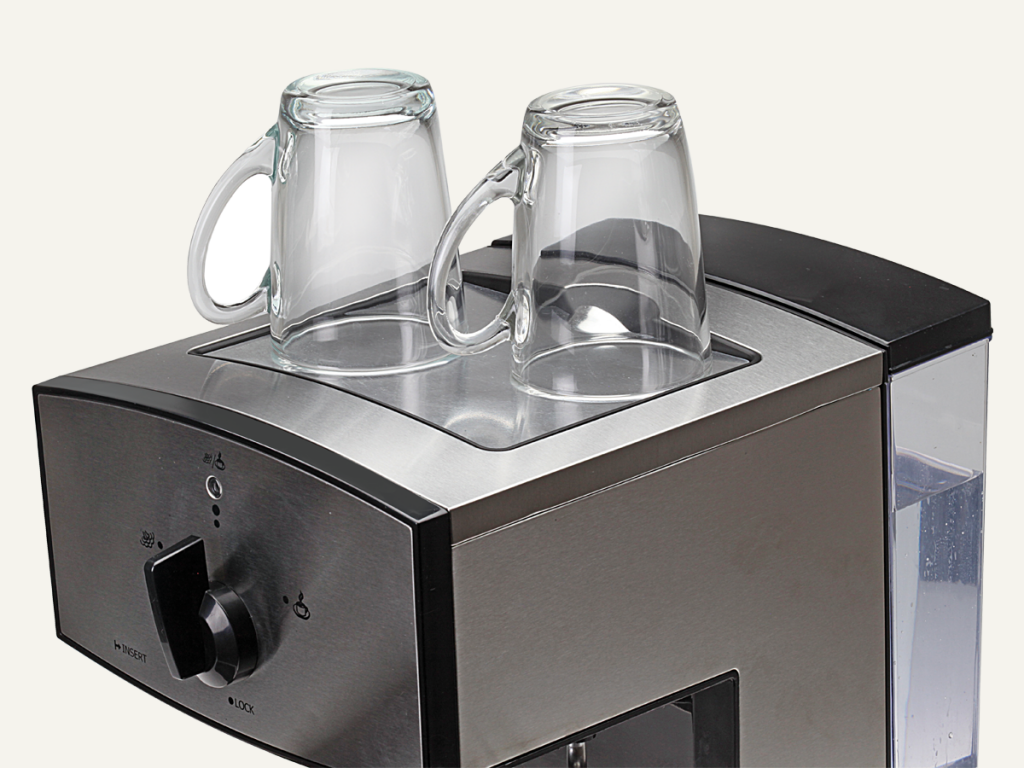 Once you've done this, you can put the portafilter in the Capresso EC50. It should be warmed up - there's an indicator light to let you know.
Turn the control knob towards the coffee position. The ideal brewing time is 30 to 35 seconds.
This makes sure the coffee is well extracted, and not tasting acidic or bitter. Once it's done brewing, just turn the control knob back to the initial position.
That's basically all there is with the EC50. As we mentioned, making a cup of coffee with it is extremely easy.
You could easily do it in the morning, when you don't want to need to overthink anything.
If you want to make a latte, or a cappuccino, make sure you clean the steam wand first.
When it warms up, turn it on in an empty cup, or in the drip tray, first. Then, grab your milk and pitcher, and froth the milk.
Is the EC50 worth the money?
You'll find that many aficionados claim you'll want to spend upwards of $500 for a good espresso set.
But that's not always true. Especially for home users, that amount of money is too much.
Instead, you can get a simple coffee maker made for the home user.
The Capresso EC50 is an excellent example. It can make more than just a cup of espresso, it's extremely simple to use.
Maintenance is a piece of cake as well. Just wipe the area where you put the porta-filter, and let it run once or twice with just water, without coffee. That's about it.
All things considered, if you aren't into spending too much money, and want something simple, the EC50 is excellent.
Yes, it does make a good cup of coffee, and we think you're going to love it. It has a few nifty extras such as a steam wand, and a warming tray, and you won't find them with competitive products at this price range.
The only potential downside is the fact that it requires a bit of time to warm up.
However, you can prepare your coffee in the meantime, and warm your cups, so making your coffee takes a few minutes anyways.
If you can look past that, this is absolutely an excellent budget choice for the home user!
How to Use The Capresso EC50 Coffee and Espresso Machine
The Capresso EC50 Coffee and Espresso Machine has many functions which make it an attractive choice for home use. The following guide will show you how to use the machine properly.
Using Cold Filtered Water Only
First, fill out the water reservoir by using cold filtered water only. Do not use tap water due to its high mineral content, because this can clog up the machine and lead to reduced performance.
Note: the water reservoir is located on top of the machine
Use a Measuring Spoon to Measure Out One Scoop of Ground Coffee for Every Cup
The next step is to use a measuring spoon to measure out one scoop of ground coffee for every cup you want to make. Press the container marked "grounds" onto the flat surface area, then turn it until it clicks into place. The container is capable of holding up to 4 scoops (for a total of 16 cups) for maximum convenience.
Note: do not fill the container past the point where it has "Max" written on it
Remove Any Excess Grinds From Around the Sides
Once you've filled the container with your desired amount, remove any excess grinds from around the sides, then close it back up by turning it until it clicks into place.
Note: be sure the container is properly closed before beginning your brew cycle
Put a Cup Under the Nozzle on Top of the Machine and Press the Coffee Button
To make an espresso, put a cup under the nozzle on top of the machine and press the coffee button. Depending on how much water you want in your shot of espresso, adjust the dial below where it says "cups". For a single shot, use cups 1-3. For a double shot, select 5 or 6 cups.
Add Water to the Machine Until the Indicator Is Under the "Max" Line on the Water Reservoir
For an Americano or cappuccino, add water to the machine until the indicator is under the "max" line on the water reservoir. Then select your desired amount of shots for espresso and press start.
Note: if you just want plain, unadulterated coffee, use the same process as for espresso, but do not adjust the dial
Follow the Flow of It
Once your machine is on, wait 4-7 minutes until the indicator reads "ready", which means it's finished. When it's done brewing, discard any remaining water in the drip tray, then wipe it out with a paper towel. Once the drip tray is dry, return it to its rightful place under the machine.
To clean any residue off of the nozzle or container, simply run some cold water through these parts once they are cool to touch. (Note: never use anything sharp or abrasive to clean your machine)
Note: use a paper towel or soft, damp cloth to wipe down the outer casing of your machine
When the machine is cleaned and put back together simply turn it on by pressing the Power button. Press "OK" when you see "Grind and Brew" and then select how many cups you want (1-4). Select "OK" to begin the pre-brew cycle.
Note: if you want to adjust the amount of water or espresso you need, simply press the "Menu" button and make your adjustments at this time
When it's finished brewing, hit "Cancel". When it is ready, remove your cup from the tray under the nozzle and enjoy!
Note: you can adjust the strength of your espresso by pressing the "Coffee Strength" button - this will adjust how much ground coffee goes into the container
If you'd like to make another cup, simply repeat all of these steps. Once your machine is finished brewing do not leave it on for longer than 20 minutes, as the Capresso EC50 has a thermal cutoff that will turn it off within this timeframe.
FAQs for The Capresso EC50 Espresso Machine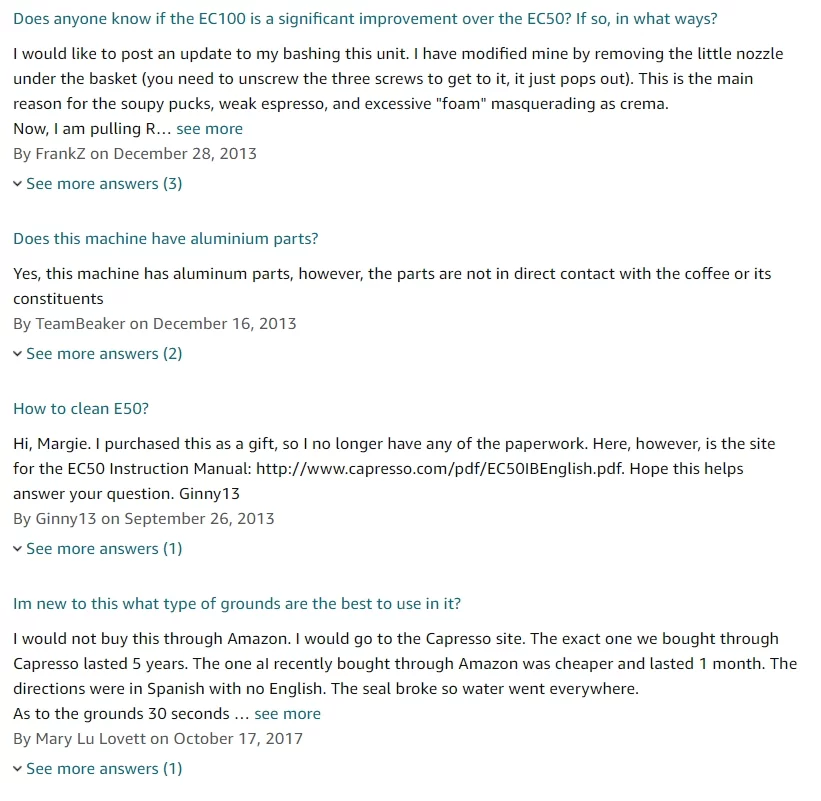 Customers' Reviews for The Capresso EC50 Espresso Machine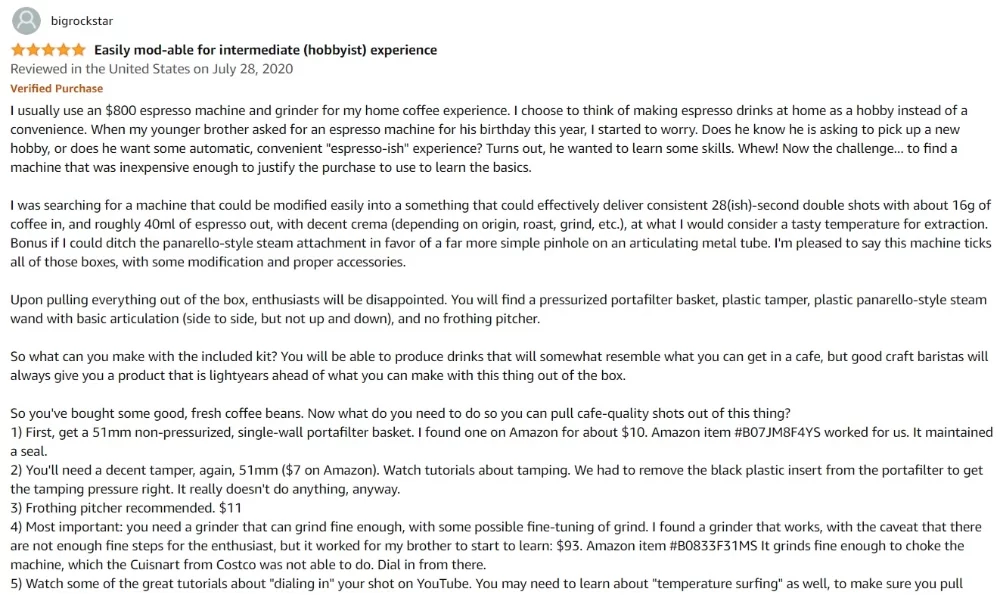 Conclusion for Capresso Espresso Machine Buyers
The Capresso EC50 is a great machine for those who want to make high-quality coffee and espresso at home without spending a lot of money. This machine has many features that are not found on other machines in its price range, including a built-in conical burr grinder and programmable buttons that allow you to customize your coffee drinks. The EC50 also comes with a milk frother so that you can create cappuccinos and lattes right in your own kitchen. If you are looking for an affordable machine that makes great coffee, the Capresso EC50 is definitely worth considering.