When you're looking at an espresso or cappuccino maker for home use, there are plenty of options.
However, this may easily confuse you, and you'll end up making a mistake. That mistake might cost you $50, but it might cost you a lot more, too.
There are options, however, that don't cost too much, and make a mean cup of coffee.
One such option is the Capresso EC50 espresso machine.
It's a small, home user-oriented coffee maker, and takes little to no counter top space.
If you aren't extremely picky about your coffee (and you really can't be if you're on a budget), it'll make you an excellent cup of coffee.
If you're after a good brewer that won't cost too much, you ought to read Capresso EC50 review, as this might be the one to go for.
Let's discuss the build and specs
When you consider that it's a budget-oriented machine, you might set your expectations low.
But even if you have high expectations, the EC50 will at least meet them, if not exceed them.
The size, as we mentioned, is just right. It's 11 1/2″ high, 7 1/4″ wide and 10 1/4″ long.
This makes it suitable for putting on a counter top, if you don't want it in your way.
It weighs 8 lbs, so you can easily move it, if needed, as well.
The reservoir is at the back, and it has a capacity of 42 oz. You can make quite a few cups of coffee before you need to refill it.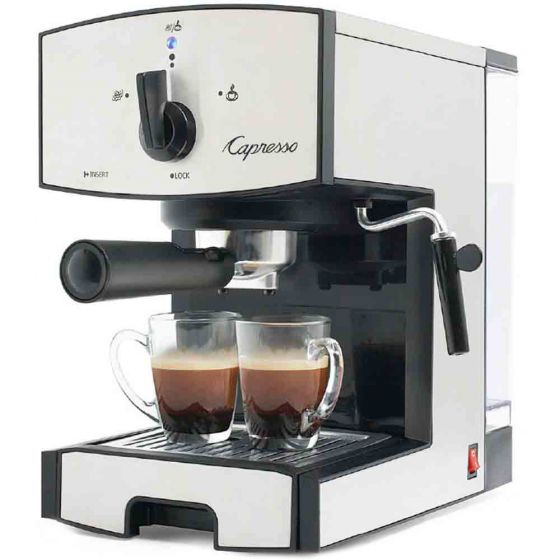 The whole body of the Capresso EC50 is plastic, but you wouldn't notice it.
There's a layer of stainless steel on the outside, which makes it feel a bit more expensive than it actually is, and it looks a lot better.
I do have a plastic coffee maker at home, and yes, it looks a lot cheaper when put next to the EC50.
At the front, you'll find the control panel.
It's dead simple, and regardless of how much of a morning person you are (or aren't), you'll find your way around it.
You'll also fin a stainless steel thermoblock on the top, which will warm your cups before you brew your coffee.
Sure, this isn't a necessity, but a shot of espresso is a lot better when you consume it from a warm cup, especially in the morning.
All is great in the inside, too!
The pump that's inside can reach up to 15 bars of pressure.
Even though pressure is just a single component among many when making espresso, it's an indicator that you'll get good, thick crema.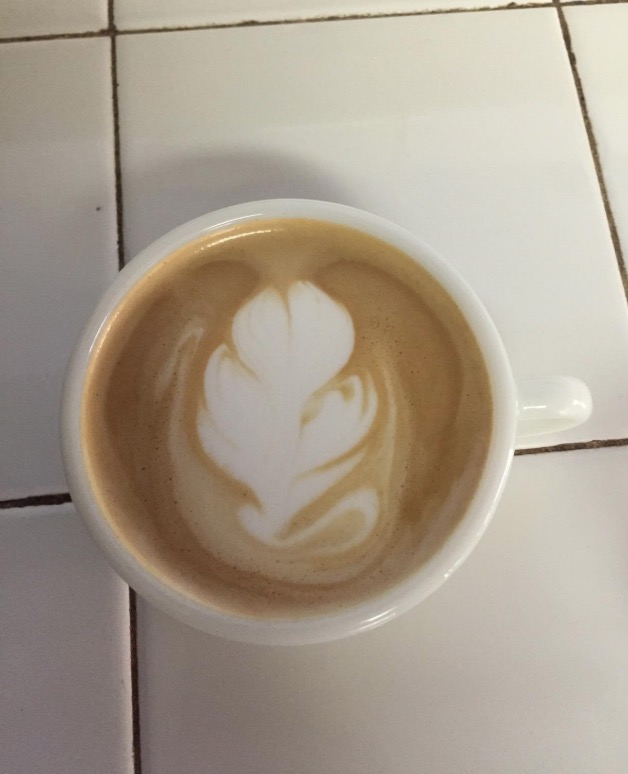 There's another thing you don't find with many budget coffee makers – a swivel frother. The truth is, not everyone loves espresso that much. Some people prefer a latte, or a cappuccino.
The EC50 will let you do both. There are two positions, one for steamed milk, for latte, and another one for frothed milk, for cappuccino.
The frother is easy to use, and you can adjust it for a frothing pitcher or tall glass.
Making a coffee with the Capresso EC50
The Capresso EC50 is easy to use. It does require a bit of time to warm up. We'd recommend that you give it 5 to 6 minutes.
Yes, this is a bit long, but it'll be worth it. You can prepare the porta-filter in the meantime.
Fill the porta-filter with coffee. You'll want to grind your coffee just right. I'd recommend a good conical burr coffee grinder for that job.
Too fine, and it'll clog the machine.
Too coarse, and coffee will come out really fast, leaving you with under-extracted coffee.
Tamp it well with the included tamper.
While you're waiting, you can put your cup(s) on the tray on the top. As mentioned earlier, this'll warm them up, making for a much better tasting coffee.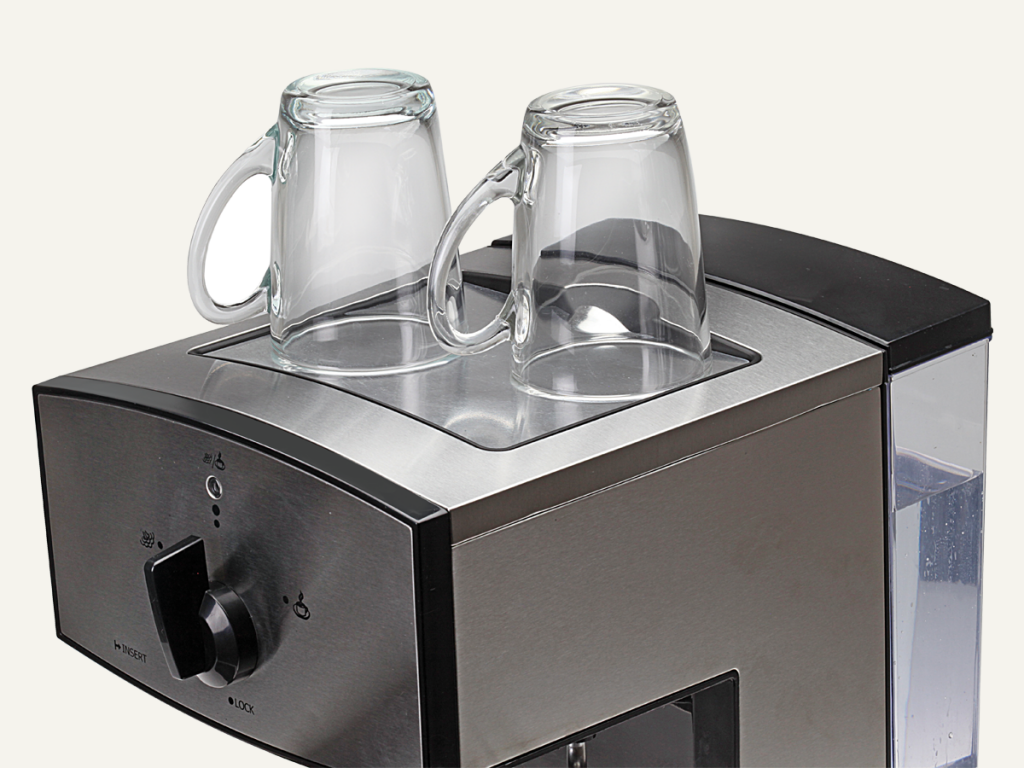 Once you've done this, you can put the portafilter in the Capresso EC50. It should be warmed up – there's an indicator light to let you know.
Turn the control knob towards the coffee position. The ideal brewing time is 30 to 35 seconds.
This makes sure the coffee is well extracted, and not tasting acidic or bitter. Once it's done brewing, just turn the control knob back to the initial position.
That's basically all there is with the EC50. As we mentioned, making a cup of coffee with it is extremely easy.
You could easily do it in the morning, when you don't want to need to overthink anything.
If you want to make a latte, or a cappuccino, make sure you clean the steam wand first.
When it warms up, turn it on in an empty cup, or in the drip tray, first. Then, grab your milk and pitcher, and froth the milk.
Is the EC50 worth the money?
You'll find that many aficionados claim you'll want to spend upwards of $500 for a good espresso set.
But that's not always true. Especially for home users, that amount of money is too much.
Instead, you can get a simple coffee maker made for the home user.
The Capresso EC50 is an excellent example. It can make more than just a cup of espresso, it's extremely simple to use.
Maintenance is a piece of cake as well. Just wipe the area where you put the porta-filter, and let it run once or twice with just water, without coffee. That's about it.
All things considered, if you aren't into spending too much money, and want something simple, the EC50 is excellent.
Yes, it does make a good cup of coffee, and we think you're going to love it. It has a few nifty extras such as a steam wand, and a warming tray, and you won't find them with competitive products at this price range.
The only potential downside is the fact that it requires a bit of time to warm up.
However, you can prepare your coffee in the meantime, and warm your cups, so making your coffee takes a few minutes anyways.
If you can look past that, this is absolutely an excellent budget choice for the home user!