Last Updated on
By: Know Your Grinder
Today we review the Bezzera Galatea Domus espresso machine.  But first, a little bit of context. 
Not all espresso machines are created equal.  The Italians are known for quality and a deep understanding of how to get the most from a coffee bean. 
I think that my first coffee maker may have been a K-Mart special that my parents cast off in the 70's. 
Many years and many bodums, brewer, keurigs….later… I have come to the conclusion that coffee makers matter. 
The better the machine, the more exquisite the coffee experience.

On the outskirts of Milan, in the bustling streets of the Italian countryside, lies a time-honored espresso machine company, Bezzera. 
This is where the Bezzera Galatea Domus was created. 
In this article, we are going to lear about the Bezzera company and their beautiful espresso machine, the Bezzera Galatea Domus.
Table of Contents
---
Bezzera's History
In the year 1901, a man named Luigi Bezzera created and patented an innovative way to prepare coffee – the first espresso coffee machine.
Five years later in 1906, this new and imaginative machine was exhibited at the Milan International Fair. 
From then on, this family-run company has been devoted to producing top quality espresso machines. 
In spite of changes over the decades, the company has maintained a constant passion for the art of fine coffee making equipment. 
Today, the company is run by the fourth generation of the Bezzera family, Guido Bezzera. The company has existed for over 115 years. 
---
Bezzera's Philosphy
Continuous innovation and modern transformations have not changed the philosophy and tradition of the company, which proudly maintains its complete production line in its own facilities. 
Components and finished products are designed and created by approximately 70 employees as well as continuous cycle robots. The fact that each component is designed onsite ensures quality in every step of production.
The research and development branch of the company works closely with resellers of the machines to monitor quality and continuously improve.
Everything about the production of these machines ensures quality and care.
---
A Semi-Professional Machine
Craving the aroma, taste and ultimate espresso experience at home, Bezzera has created a semi-professional machine. Now you don't have to spend money every day at a cafe to get the cup of coffee you want.
The Berra Galatea Domus is a top-of-the-line espresso maker. It is the dream of many baristas to own one of these, so if you have one of these at home, consider yourself very lucky.
This beautiful, award-winning machine is manufactured in a modern production facility, built with over 115 years of experience. All of this ensures professional-quality coffee production.
The machine is also built with extreme style and attention to detail, demonstrating amazing craftsmanship.
It radiates a retro Italian charm with dramatic angles and rolling curves. Details such as curved steam wands and smooth, rounded metal transitions throughout the body give this machine real pizzazz.
It's a true work of art, and dresses up any counter top it sits upon.
But most importantly, the Bezzera Galatea Domus produces a beautiful crema-topped espresso, which is exactly what you want from an espresso machine, and what any good barista will look for.
Crema is a golden-coloured foam-like layer that is formed on the top of an espresso shot. It is used to indicate the quality of a good espresso – its presence means that your coffee is likely going to taste rich and delicious.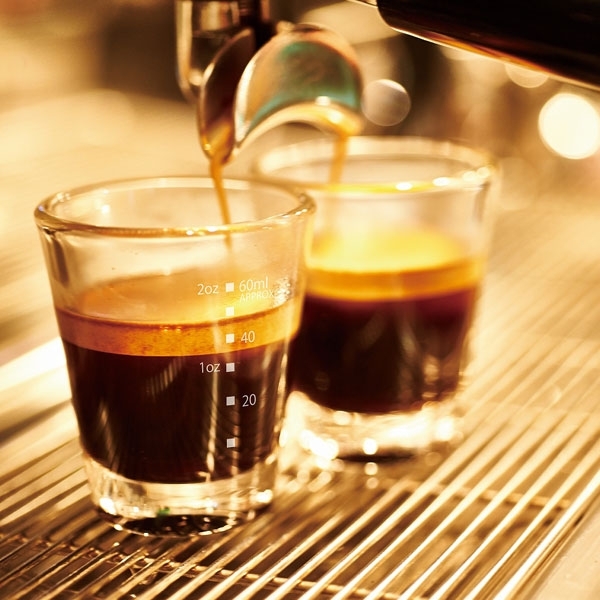 There are different factors that contribute to the formation of the crema, including the coffee bean itself, but the most important factor is the way the machine produces the espresso.
The water that runs through the espresso must have a lot of pressure behind it. When water with this amount of pressure hits the coffee, it emulsifies the oil and CO2 which is present in the coffee, thus creating lots of tiny bubbles. This is what creates our beloved crema.
This machine also has a lot of power in its steam wands, allowing you to quickly steam the perfect pitcher of milk.
The four-hole, commercial style steamer can steam milk for a cappuccino in about 10 seconds.
It can steam continuously for 45 seconds, meaning you can make two large lattes back-to-back with no recovery time in between.
The steam wands are curved almost in an "S" shape, as opposed to being straight (like many steam wands).
This not only adds to the stylistic look of the machine, but it actually gives you great control over your steam wand, allowing you to position it in different ways to steam the milk just the way you like it.
Whether you're making a latte, cappuccino, cortado, macchiato, or anything in between, this steam wand will deliver. 
---
How It Works
At Bezzera, they seem to understand the importance of maintaining a balance between speed and quality in making the perfect espresso.
Creating superior commercial coffee machines that deliver on both these counts, a Bezzera machine ensures that taste, texture and aroma are never compromised.
Below is a video that shows how the Berra Domus Galatea produces a beautiful shot of espresso.  
This model can be installed anywhere without connections to the main water supply net. The top of the machine gives access to its 4-liter water reservoir. 
The 2-liter copper boiler system heats the water. 
Thanks to the heat exchanger inside the boiler, you can pull a shot of espresso and steam your milk with the steam wand at the same time, cutting your latte or cappuccino prep-time in half.
Other single-boiler machines are unable to do both simultaneously. 
The Galatea Domus uses something called an E61 Brew Group. This system circulates hot water through the brew group constantly, thus creating more consistency in brew temperatures.
The brew temperature is another important factor in how your espresso shot will turn out, so having thermal stability is crucial.
The system also allows an accurate setting of the temperature, equal to commercial machines of professional quality.
The front of the machine has two gages: one for the boiler and one for the brew pressure. This helps you see what's going on with the machine so you can perfect your brew.
Underneath the group heads lies the drip tray. The tray is easy to remove so you can wash it when you like and insert it back. 
---
Conclusion
So you too could have a small piece of Italian history on your kitchen counter. This machine will make you feel like your own barista, preparing delicious, quality coffee for yourself whenever you please.
When you see this machine's gorgeous retro design, and drink a cup of hot coffee from your favourite mug, you'll feel like you're on some sunny balcony in Italy, in a time that has passed, enjoying life and its simple pleasures. 
Add the semi-professional burr grinder to your collection, as well as some homemade biscotti and you'll really be living in style.
To begin your journey, visit the official Bezzera website for more details on the Domus Galatea and other great products!