MODEL NO: 35250
MANUFACTURER: BRITA
TYPE: FILTER PITCHER
SIZE: SMALL (SIX 8 OZ GLASSES)
PRODUCT DIMENSIONS: 10.13 X 9.7 X 4.75 INCHES
ACTUAL WEIGHT: 2.1 POUNDS
SHIPPING WEIGHT: 1.71 POUNDS
OUR RATING: 4 OUT OF 5 STARS
BPA FREE: YES
FITS IN MOST REFRIGERATOR DOORS: YES
WARRANTY: 30 DAYS UNCONDITIONAL, PARTS 90 DAYS
COLORS: BLACK, WHITE, RED
So picture the scene. You feverishly unpack your new snooty espresso machine out of her box.
Hot and sweating, you assemble the delicate steel and glass goddess until you are sure she looks installed to perfection.
Your only question is which of your precious beans you should let her play with.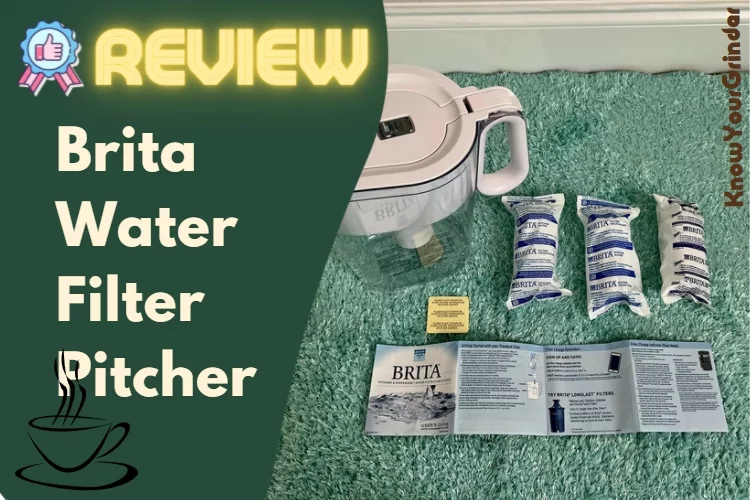 Water Woes
Nothing, absolutely nothing will now stop you indulging your inner coffee snob with the rich deliciousness of some freshly crushed bean using a high quality burr grinder that you finally got your hands on.
You saunter over to the sink to grab some water and…bleurgh! It smells like something died in the municipal swimming baths!
How on earth can you make coffee from this water if you can't even stomach to drink the stuff straight from your tap?
Stating The Obvious - 98% Of Your Coffee Is Water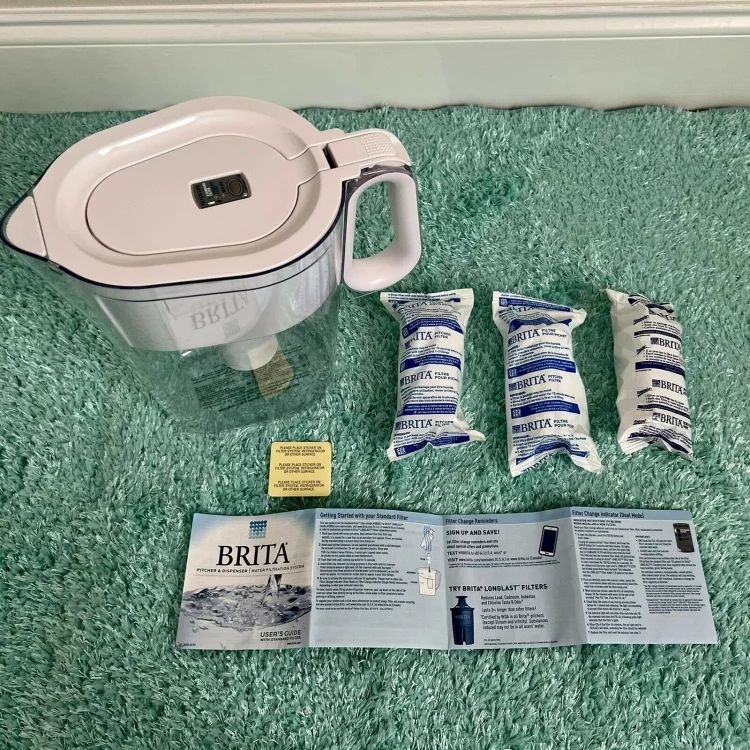 The strange thing about people who make their coffee or espresso at home is they'll go to the trouble to buy a fancy espresso machine, a coffee grinder, and everything else to make great coffee or espresso, but they forget one thing. The water!
Even though its 98% of the beverage itself, some people just think ahhhh, whatever, it'll be fine, right?. The problem is, brewing coffee doesn't "fix" your water. You literally can't boil it to taste better, and running it through an espresso machine doesn't help its taste either.
Just because water is somewhat tasteless, it definitely has a taste. It only tastes fresh and clean when it is fresh and clean. If there's contaminants in your water, your coffee is in trouble.
Bad Water = Bad Coffee
So, is your town's tap water like chemical warfare? Surely you're not using it to brew your coffee. SURELY you don't have an expensive espresso machine and use bad water.
Maybe you've resorted to bottled water, but you just haven't had time to get yourself something like a Brita. With a Brita water pitcher, you could solve the majority of your water issues, and not just when it comes to coffee.
The Brita 10-Cup Everyday Water Pitcher is a compact water container with a capacity of 6 glasses of water at 8 ounces each. Its 10.5 inches tall by 11 inches wide, and fits in most fridges. Its handy, and this is why thousands have bought it and more are buying it every day.
Gone are the days of waiting around for the water to be filtered. Just a fifteen second dunk under the tap and it is ready to go.
Available in three colors, red, black and white, this is a standard jug with a lid, designed to sit easily in your refrigerator.
The biggest plus about this unit is that we feel it is the fastest, cheapest, and easiest way to fix any sort of water taste problems you might be experiencing, and this, of course, extends to your coffee and espresso. Beyond this, you're looking at some major changes to your home water setup, such as looking at an RO water filter which is exponentially more expensive.
Lid Issues
Unfortunately, the Brita is not without its flaws - there is a price you pay for having such an inexpensive device that seems to do it all.
This is where we get to our first and most notable fault. You cannot look through any literature on the subject of this filter without coming up against the Brita water filter's lid issues.
Everywhere you look, there are customers pointing out that the lid likes to fall off. Yes, many of us have experienced this ourselves. Often the weight of the water will just push the lid right off if you don't hold it a certain way. That said, this is also what is good about it, because it makes it super easy to refill. The "fix", you could call it, is to just simply hold the lid in place while you're pouring. Its not a huge deal, and solves the issue of the flying-off lid.
If you are looking for a Brita over on Amazon, be sure to check which version you get because there have been a few recent small improvements here and there as of late.
Improvements In Water Taste
Lid issues aside, the most important thing is the taste. Does this produce fabulously clear tasting aqua and make the best water for coffee?
We are pleased to report that despite any design flaws with the unit, there has not been one single negative comment about the taste of the water from the Brita Space Saver.
If you are looking to drastically improve the quality of your drinking water, look no further than this model.

Perfect Fit For Your Average-Sized Fridge
Other good points to note about the Brita Space Saver are, it is relatively small. Obviously this is only a plus if you are looking for a smaller water filter. This would ideally suit a singleton or someone whose water needs are not too huge.
There is a filter replacement light, which estimates the length of time needed before the filter will need replacing. A word about this, it seems that this is a mere tool that detects the number of times the lid is opened and closed and then estimates the amount of use that the filter must have had. It is probably not accurate, but may serve as an indicator as to how long you have left before replacing the filter.
Also there have been a few moans about the spout and slight leaking, but generally it is seen that the new model is an all round improvement in design.
Again, one or two have complaints that it takes a while for the water to actually filter through, but sometimes you do have to wait for good things to happen!
The bottom line is this will massively transform the quality and purity of even the most foul tasting tap water.
From a pure drinking point of view, this is great news. No more expensive and heavy bottles of water clogging up your kitchen units, and no need for a huge RO water filter.
Coffee Lover's BFF
For the coffee lover, this is much more than just a nice glass of water. This is coffee purity and flavor taken to a whole new level.
Even if you think that your tap water is okay, it might be worth trying this filter, just to see by how much your coffee experience could be enhanced by.
Give your coffee beans a chance to shine by introducing them the water that they deserve. You will be glad you did!