Did you know that you can get coffee in a can?
As a matter of fact, for almost 50 years now, people have been drinking coffee out of cans, ever since it became available for purchase in Japan in 1969.
The company responsible for this innovation was UCC Ueshima Coffee Co., a manufacturer / retailer from the city of Kobe.
You might remember this 80's commercial by UCC for their canned coffee starring Misato Watanabe: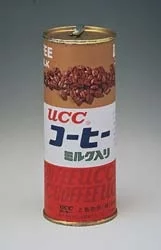 Japanese Beverage Culture In The 1960's
The need for canned coffee came, as do most inventions, out of some sort of necessity.
When canned coffee hit the scene at this time, the beverage industry was changing, and Japanese folks were basically at a loss for what to drink when they were in transit - waiting for the bus or train, heading to or from work.
They were craving something that could give them a hit of energy to continue on with their day. This, of course, was long before the days of Red Bull and the supercharged energy drinks of today.
One popular drink around this time was bottled milk beverages, which consumers would grab on the go, thinking it would act as some sort of meal supplement. It wasn't so much a thirst-quencher, rather, it was meant to give energy as the population grew and more and more people entered the workforce.
Ueshima Tadao - The Man With The Plan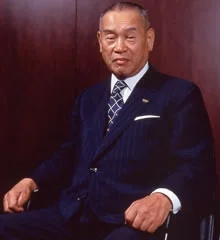 In 1968, there was a particular incident which happened to inspire the creation of canned coffee.
The founder of UCC, whose name was Ueshima Tadao, was waiting for his train to arrive. At the time, he was drinking a coffee-flavored milk beverage.
He had wanted a coffee, but there was none available at the train station - only milk products, with coffee-flavored milk being as close as he could come to coffee on the go.
If only Ueshima Tadao could see into the future…all the way to the year…2009! A time where hot coffee in a can could be purchased in Japan out of a vending machine. Behold!
Back in the 1960's, at that fateful train station, Mr. Tadao didn't have time to wait as his train was leaving earlier than usual, and that meant he didn't have time to drink his beverage, which was not allowed on the train.
Feeling bad about wasting his drink, he had no choice but to get on his train, but not before quickly running to the store where he bought his coffee-flavored milk beverage to return the bottle, which was the custom at the time. At the last possible moment, he caught his train and was off.
It was this incident which got Ueshima Tadao thinking about a coffee that people could drink at any time, and anywhere they pleased. After some thought, the answer was obvious to him: canned coffee.
The Invention Of Canned Coffee
Of course, today people are drinking coffee everywhere on the go with the help of to-go cups, but back in the late-sixties, there was none of that, and so the idea that occurred to Mr. Tadao was actually cans, not "to-go" cups, as cans were obviously already in use by this time, having been invented years before.
As you know, coffee still does come in a can and it is still very popular, all thanks to Ueshima Tadao, who was the originator of this idea which is now ubiquitous.
Through trial and error, Mr. Ueshima worked to develop this technology which would allow coffee to be put into a can and remain there for a long period of time without losing its flavor.
For one million yen, the very first location of UCC coffee was open for business in Tokyo.
It took months of hard work, but Mr. Ueshima eventually succeeded in producing coffee in a can which also contained milk, which, of course, was wildly popular at this time.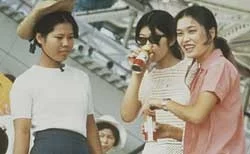 Canned coffee was a huge hit when it debuted at the Osaka Expo in 1970.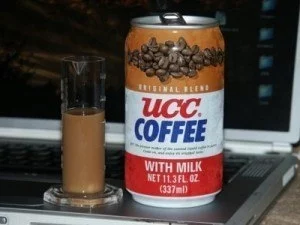 Like many businesses, when UCC began selling canned coffee, it was first met with skepticism, since no one had ever seen or heard of such a thing. At this time it was a completely new idea.
However, the exposure from the 1970 Osaka expo is what really kicked UCC's canned coffee beverage into high gear, and the drink began to sell well. After giving away some free samples at the time, sales took off and canned coffee was truly a hit!
…And its been that way ever since. Canned coffee in Japan is now completely ubiquitous, thanks to Mr. Ueshima, and its a much loved part of the culture.
Today UCC, inventors of coffee in a can, is now known as UCC Ueshima Coffee Co. Ltd, and has their headquarters in Kobe, Japan. With around 800 employees, UCC owns their own coffee farm in Hawaii and they are known worldwide as a force in the coffee market.
Visit their website here for more info.
Japanese Canned Coffee Videos For Your Enjoyment
Here below you can see the revolution which Mr. Ueshima started!
Summary
Article Name
Canned Coffee Origins Ueshima Tadao and UCC
Description
Did you know that you can get coffee in a can? As a matter of fact, for almost 50 years now, people have been drinking coffee out of cans, ever since it became available for purchase in Japan in 1969. The company responsible for this innovation was UCC Ueshima Coffee Co., a manufacturer / retailer from the city of Kobe...(Read More)
Author
Know Your Grinder
Publisher Name
Know Your Grinder
Publisher Logo