Have you had your first cup of coffee today? 🙂
Well, you were accompanied by millions of people from all around the world who started the day the exact same way. As you might be aware, the popularity of coffee around the world has only increased in recent years. No matter if it's piping hot or on ice, served with cream and sugar or black, you will always be sharing that first glorious sip of coffee in the morning with some other lucky individual somewhere on the planet.
We here at Know Your Grinder find this idea intriguing - the idea that all around the world, people are enjoying their coffee, and yet the brewing methods and types of coffee are slightly different, just as people are different everywhere you go. Which is why we want to take a look at a country that we find stunningly beautiful and see some of the amazing and unique places they like to enjoy their coffee - Macedonia!
In case you don't know much about Macedonia just yet, here's a quick video which talks about 10 fun facts you might like to know about this great country right off the bat…
At this point, if you haven't been there yourself, you might ask, "Where exactly is Macedonia?" Luckily, we have this map (Thanks Google) to give you a general idea as to its whereabouts.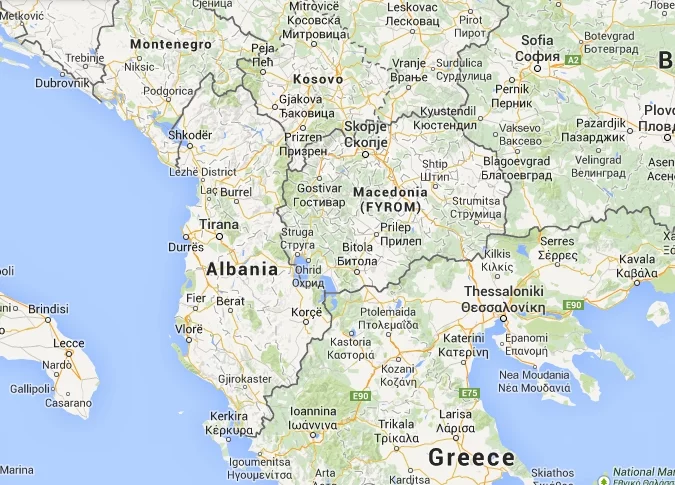 Macedonia & Coffee - They Go Way Back
The beautiful country of Macedonia, located north of Greece, is no different in their love of fine coffee from any other coffee-loving nation, and yet, theirs is a history that goes way, way back. Indeed, back to the days of the Ottoman Empire, where coffee was then known as the "milk of chess players and thinkers". Like their neighbors in the east, the Turks, Macedonians take their coffee (and coffee grinders) very seriously. As such, you get a lot of beautiful coffee grinders coming from this part of the world which are very distinct and very beautiful, much like the people of this region. Coffee has always been a traditional drink in Macedonia, with a lot of ancient customs and traditions intertwined with it.
Still today, Macedonians drink coffee like its going out of style. In this small country in the Balkans with a population of only 2 million, coffee there is just as much part of the fabric of their culture as it is in North America.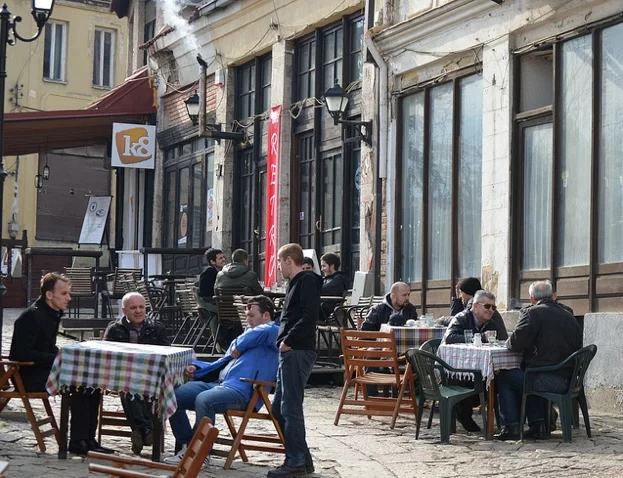 Coffee Hotspots In Macedonia

So where are the coolest coffee hotspots to hit up when you go to Macedonia? For this info, we asked someone who is from Macedonia herself; coffee lover and blogger Milena Lazova!
"The people here are very friendly and kind, so if you ever go to Macedonia, don't hesitate to ask some of the local people for a nice place to have your daily cup of coffee," says Milena. "Now I want to give you a virtual tour of the best places to go for coffee in my country. I hope someday you can visit each of these places, because they are all so amazing in their own way, and well-known in Macedonia for their great coffee and service."
Coffee Hotspot #1 - The Old Bazaar in Skopje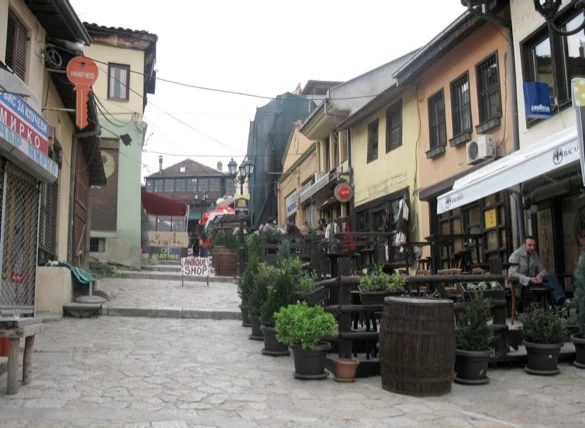 The Old Bazaar in Skopje, the capital of Macedonia, is the largest bazaar in the Balkans after the one in Istanbul. Along the many cultural-historical monuments here such as the bezisten, and several hammams (Turkish baths) and mosques, you can also see a lot of handcraftsman's shops, kebab shops, tea-houses and cafés. One of these cafés would be a perfect place to have your coffee while seeing the sights and visiting some of these amazing places in the Old Bazaar.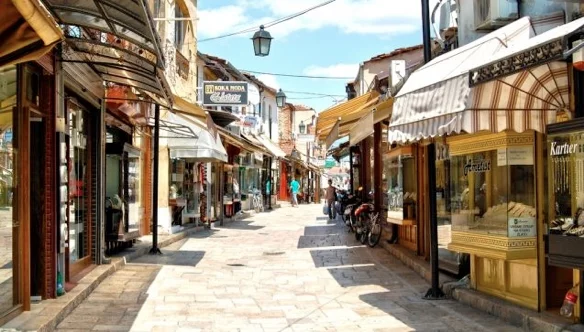 There are many types of coffee you can order here, but the most popular is an authentic cup of Turkish coffee. The grind for the Turkish coffee is super fine and it's made by special Turkish coffee grinders.
The coffee is prepared in long-handled pots made from copper and brass called 'gezve', after you have put water, a teaspoon of coffee per cup, and sugar to taste. The gezve is put on a stove till the coffee nearly boils.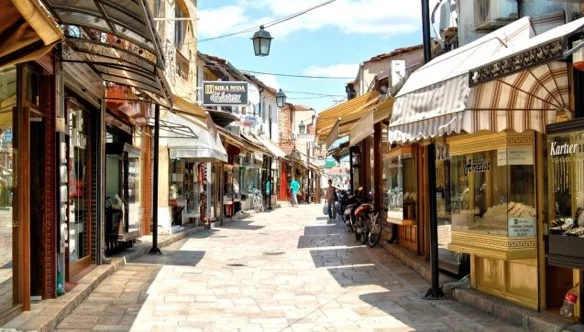 The most important thing is to not let the coffee boil because the coffee should build a thick froth which will be lost if the brew comes to a boiling point.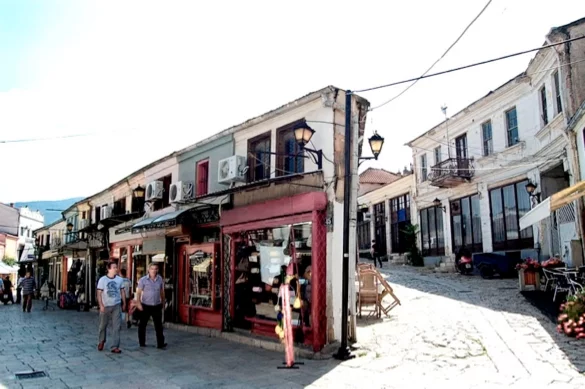 Once prepared, the coffee is served in a small cup together with a glass of water. You should wait couple of minutes to let the grinds settle to the bottom of the cup before savoring your delicious Turkish coffee. If you go to some Macedonian house the hosts will probably offer you with this type of coffee.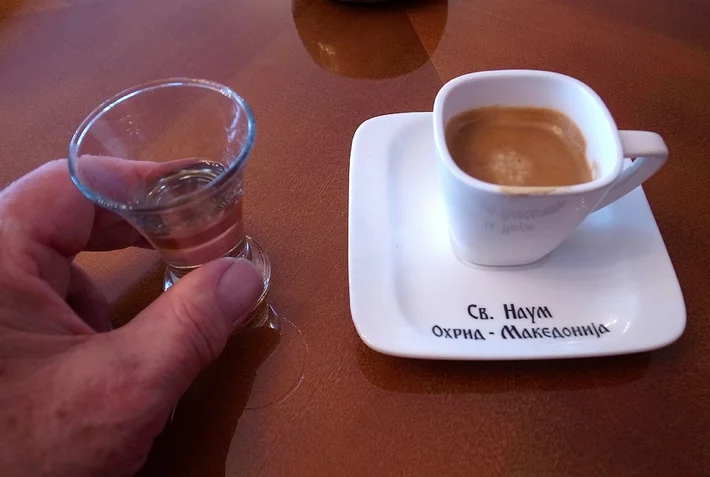 Coffee Hotspot #2 - Matka Restaurant in the Canyon Matka
The canyon Matka of the
is located 15km south-west of Skopje and it's one of the most popular outdoor destinations in Macedonia. There are 10 caves at this canyon, one of which, called
Vrelo
(these pictures are amazing!), was listed as one of the top 77 natural sites in the world in the
New7Wonders of Nature
project. The canyon is home of 77 endemic species of butterfly, as well as of several churches and monasteries.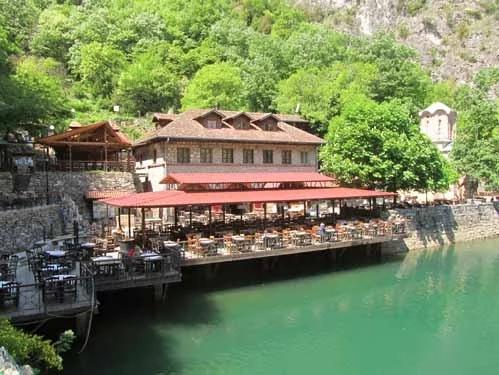 You can go hiking, cave diving, rock climbing or practice
at the Treska River. It is surely a great place to visit, and the
Restaurant Matka
located on the Shore of
Matka Lake
is a wonderful place where you can rest from exploring the canyon and a place where you can have a nice cup of coffee while having the best view of the Lake Matka.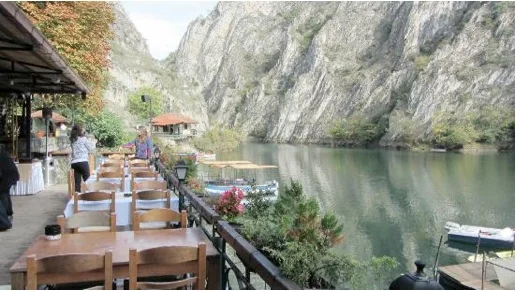 You can order an espresso, macchiato, or Nescafe here. Can't you picture yourself drinking one of these delicious types of coffee while breathing a fresh air and having a beautiful picturesque view of the Lake Matka? I've done it, and it really is so beautiful. I hate to sound like an advertisement, but this place is wonderful, you simply must see it in person! Keep this image in your mind's eye until you come here and experience all of this in person.
Coffee Hotspot #3 - Intro Café in Veles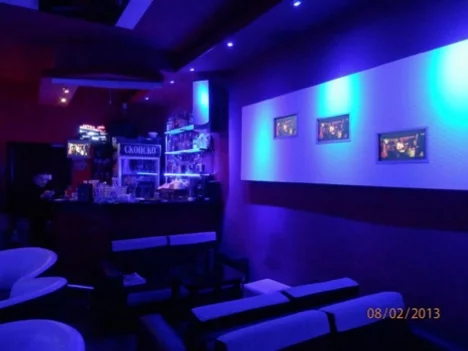 Another place where you can go and have a wonderful cup of coffee while in Macedonia is Intro Café in the city of Veles.
This city is one of the largest in Macedonia and has many different cafés located mainly on a single street. The reason why Intro Café is singled out from the rest of the cafés is because it offers a huge range of different types of coffees.
The view may not be that excellent as that from the restaurant Matka, but its got a really cool vibe, but you can choose from 15 different types of coffee while sitting, listening to the latest world hits and viewing one of the city parks famous for its cherry trees. You can practically go 15 days in a row and order different type of coffee each day!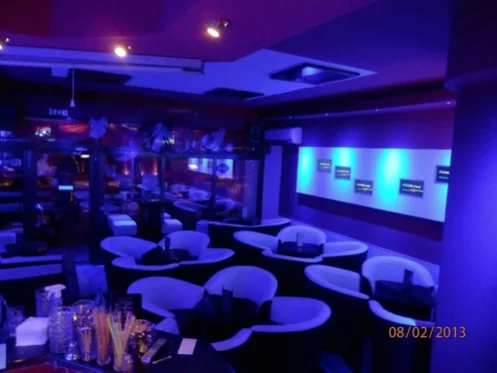 In the cold days of winter you can warm yourself by ordering Don Juan coffee, which is a mix of espresso and rum. Sound good? Its one of my favorites to purchase there, definitely. Similar to this tasty little beverage is the Irish coffee which is, if you didn't know, a mix of espresso and whiskey.
For all you lovers out there, a perfect type of coffee to order at the Intro café would be Romance coffee. Great name, right? It's a delicious combination of espresso, Baileys Irish cream, Kalua, mint chocolate and brown sugar. The coffee here is served with a sweet biscuit and a glass of water.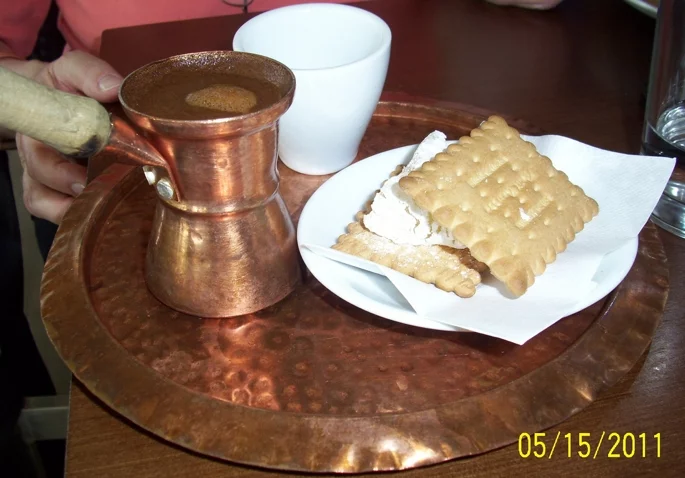 The overcrowded cafés are proof that Macedonians are a nation which loves coffee. And if you ever go to this county don't miss to try their national drink- the Turkish coffee (since we share our coffee heritage with Turkey), although there are not many cafés and restaurants which offer it. Why? Well, the reason for this is because it's quite easy to come by and everyone has it in their homes, so when out and about, people want to drink some other type of coffee besides their regular Turkish coffee.
Thank you for reading this article about coffee in Macedonia. Stay tuned to this website and you will find other articles of coffee from various countries around the world!
Here is another video featuring reasons to visit Macedonia if you ever get the chance. Come have a coffee here with us!