When you've been in the coffee grinder game as long as we have, there are certain brands that hold a certain reverence among coffee aficionados, and the one brand that is perhaps uttered with the most respect is the brand Mahlkonig.
Well actually, its Mahlkönig. Yes, there's an umlaut in there so you can guess where it comes from.
Based out of Germany, their motto is "Dedicated To Coffee", that's not just something they're saying, we assure you - Mahlkönig means it!
Competition Standard - The Mahlkönig K30 Vario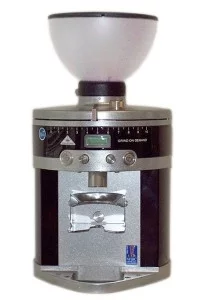 For instance, take a look at one of their premiere burr coffee grinders, the Mahlkönig K30 Vario Espresso Grinder and that should give you some idea of how serious they are. How serious? Well, this grinder is known as the "competition standard", meaning that this is the grinder mega pros look to for the purposes of contests involving the best baristas in the world, like the WBC.
Speaking of the WBC, it just so happens that the WBC, or World Barista Championships, which features a who's who of master baristas from around the world which has featured such big names as Hidenori Izaki, James Hoffmann, Gwilym Davies, and John Gordon, has made the Mahlkönig K30 grinder the compulsory coffee grinder for the event as of 2016.
In a nutshell, that means that its the very best there is. Visit worldbaristachampionship.org for more details about the competition.
Here's a look at the 2015 World Barista Championship featuring the Mahlkönig K30 in action.
That's just one reason you it is a trusted name in the industry - all of the pros clearly look to a commercial coffee grinder like the K30 Vario grinder as the best of the best today. Sometimes, when experts say that something is the best in a particular industry, that might mean "in its class" or, say, relative to a specific group of products. With the K30, it simply is the go-to industry standard commercial grinder, although there are other commercial grinders that are also good and perhaps more affordable to the home user, but they still aren't the World Barista Champion's grinder of choice.
Let us take a closer look at the K30 in action once again…
Mahlkönig: Made In Germany
When you look at this German company's dedication to the craft of coffee making, and then you combine that with the fact that Germany has produced (and continues to produce) some of the finest engineers known to mankind, that adds up to some serious pedigree, which once again becomes evident in their coffee-making technology with the K30 as a fine example.
In terms of their history, Mahlkönig has been dedicated to leading the coffee industry since 1924. For them, coffee-making is an ongoing tradition and, like we said, a real science.
Mahlkönig: Perfect Machine For A Busy Coffee Shop That Wants A Definite Edge
One thing we'd like to point out in this article is that if you are, or will soon be a coffee shop owner and you want people to get the impression - or rather, have them know that you take your coffee making very seriously, then you should at least consider checking out some of the amazing Mahlkönig grinders out there on the market, like this professional model, the Mahlkönig Guatemala Lab Grinder.
On one hand, you'll be shelling out roughly $3000 for your own Guatemala, which might scare away some potential buyers very quickly.
Elsewhere on this website we recommend small home grinders that cost just over $10 (see our blade grinder section for cheap deals), but comparing the Mahlkönig Guatemala Lab Grinder to one of those is like comparing apple orchards to apples.
Here's a video showing the operation of theMahlkönig Kenia Coffee Grinder, which is very similar in appearance to the Guatemala, and is also a top of the line commercial coffee grinder.
The reason we didn't include the Kenia in our feature article about the best commercial coffee grinders available in 2016 is not because it doesn't belong there, but we were only able to pick three grinders and so we went with the slightly more cost effective K30.
Wow Customers With A Mahlkönig
If you're serious enough about coffee to consider opening a shop, which will obviously set you back several thousand regardless, you should at least have this grinder on your radar as it could make a colossal impact on those who are serious about their coffee and have some idea what it means for a coffee shop to actually own one of these units.
If you already do own a coffee shop and aren't strapped for cash, purchasing a Mahlkönig means you won't be needing another grinder for a good decade as these machines are built like tanks and with extreme coffee-making precision in mind.
Still, the price is steep. Buying a Mahlkönig is a bit like buying a Porsche, except perhaps more practical, because if you own a coffee shop this could be all you need to grind beans perfectly and make a huge impact on your customers for years to come.
Downsides Of Owning A Mahlkönig Grinder?
So, if it doesn't get any better than a Mahlkönig grinder, is there any catch?
Of course there is! As you might have guessed already, the biggest barrier to entry with a owning a Mahlkönig is that they're not cheap. In fact, the price difference between our overall favorite burr coffee grinder for home users, with the Rocky costing a few hundred or so, while the lowest price we've seen for K30 is around $2000 on the low end. This is why it is mostly café owners that spend money on a Mahlkönig. Home users generally have no need for a grinder that can grind pounds of beans in seconds and is as industrial strength as they come.
Mahlkönig - You Get What You Pay For
But, like anything else - cars, boats, houses, etc., you generally get what you pay for, and Mahlkönig grinders definitely have the finer points to back up their hefty price tags.
First of all, if no one told you that these were the best coffee bean grinders you can get, just by looking at them, you can get the impression these are very large, imposing machines. And yet they also convey a sense of strength, security, and immaculate design-work courtesy of their German fathers. If you aren't very well versed in coffee-making, you might not even know what this machine is if you walked by it and it wasn't busy grinding some beans. Its true, people not in the know might only sense the coffee-making perfection that is a Mahlkönig grinder if they saw one in a café or restaurant, and that would definitely get them talking..
One might say that owning a Mahlkönig coffee grinder is akin to owning a rare breed of dog, like this one…
The only difference here is that a Mahlkönig is a monster when it comes to the speed and efficiency level it operates at, making it the perfect coffee-grinding beast for any store owner who needs beans ground and needs it done yesterday.
On second thought, owning a Mahlkönig is like having one of these dogs, except instead of chewing on people, it ferociously chews on coffee beans (…nice doggy…)
With A Mahlkönig Grinder, Its In The Details
Any Mahlkönig grinder, which uses burr technology exclusively, is worlds apart from a dinky little blade grinder. Ok, ok, we shouldn't disparage the decent blade grinders out there in the world - they do have their place - but a Mahlkönig is not only a burr grinder (which, as a rule, are better than their blade grinder counterparts), but it is the best burr grinder available bar none.
Mahlkönig Grinders - Huge Burr Sets That Put The Rest To Shame
So with Mahlkönig, we're talking about the use of large burr sets. Huge, in fact. If you get a second, head on over here and read this article about coffee grinder burr size, where we talk about how, as it turns out, bigger is actually much, much better when it comes to the size of the burrs that are part of our coffee making machinery.
We mentioned in that article that once you get to burrs measuring 50 or 60mm, you're starting to get rather large, and the Mahlkönig usually feature 70 or 80mm burrs, or "grinding discs" as they sometimes call them. The reason bigger burrs are essentially better is because they're more powerful, and when combined with the precision of either a stepless grinder (practically unlimited grind settings) or one which has many grind settings to chose from, you are able to get exactly the grind you want from this machine in terms of coarse/fineness and consistency.
Millimeters Make All The Difference When It Comes To Grind Consistency
You'd think a few millimeters here and there isn't exactly a big deal when it comes to grinders, but it makes all the difference.
When you have bigger burrs, you can more easily re-sharpen those burrs, to keep their level of precision at the maximum. Bigger + sharper = more accurate grind.
Some grinder manufacturers boast that they can pull off specific types of grinds with their smaller burrs or their tiny blades. They claim that the perfect espresso grind is achievable, and of course it does depend on who is using the grinder. But if you take a world champion barista and ask him to use a $50 grinder versus a Mahlkönig grinder, obviously he will go straight for the Mahlkönig grinder to achieve his or her perfect grind.
Mahlkönig Grinders - They're Heavier For A Reason
For comparison's sake, lets take one of our favorite entry level burr grinders - the Capresso Infinity.
Its a nice little grinder for your home, and it ships at around 4 lbs. People absolutely love this little machine! Ok, now lets compare it to the Mahlkönig Guatemala, which is around 52 lbs.
In general, most Mahlkönigs are large, and quite hefty. So, what is most of that weight consisting of? Not inferior hardware, that's for sure! Instead, we get a whole lot of steel and finely tuned and crafted parts with the sole intention of grinding coffee beans with German precision for the best coffee experience possible. To recap. Capresso Infinity = 4 lbs. Mahlkönig Guatemala = 52 lbs. So we ask, which of these grinders do you think you'll be able to count on for decades to come?
Mahlkönig Grinders: They're Cleaner
With additions like a pre-breaker and a "knock-off device" (clearing away grinds), Mahlkönig is looking out for cleanliness when other grinders may not take these things into consideration quite as much. What does the prebreaker do, for instance? Well, when combined with the grinding discs, which could be made from steel or tungsten carbide (depending on the model), the two parts essentially cut back on residue because there are now multiple stages to the grinding process. Because of this, the machine can be kept overall cleaner which means it will last longer.
Mahlkönig Grinders: They're Quieter & Faster
Actually, a lot of these features we're mentioning here in this article really work in tandem, and so because Mahlkonig grinders have more horsepower, they're cooler, quieter, and can overall just work harder.
In every aspect, these machines just take things a lot farther - to a new level of quality you don't get from the less expensive grinders. That's not because those grinders aren't good, as such, but because its just not possible for them to have that much quality packed into them.
For instance, a Mahlkönig is capable of grinding a pound of coffee beans in ten seconds, which is only made possible by the size and sharpness of the burrs, plus the powerful motor behind it all.
A lot of grinders make similar claims to the Mahlkönig brand, being cool, quiet, and powerful - but its just that Mahlkönig grinders are on a whole other level, period. Here is another video featuring the K30 in action, doing what it does best.
Mahlkönig : The Ideal
To wrap things up, we first set out to answer the question of "When should you purchase a Mahlkönig grinder?" The obvious answer is if you're running a coffee shop or a business that needs coffee ground up fast and more importantly, efficiently. If you know anything about the power of burr grinders, you'll know they can totally change coffee and espresso flavor for the better. Without this part of the process under your control, you will be at the whim of whoever ground the coffee before you bought it.
In the case of any business that sells coffee or espresso to customers who know a thing or two, a lot is riding on this coffee being excellent. In fact, your livelihood will be depending on this fact if coffee if one of your staples. Yes, you may buy the beans from the perfect farm in Hawaii that provides you with the best beans imaginable, and you may also have an outstanding espresso machine, but what about your coffee grinder? Which one will you use?
We feel its clear that if you want to really impress everyone - your employees, your customers, and coffee fans who know the difference between good and great coffee, you should at least entertain the fantasy of owning a Mahlkönig grinder. If you can buy one, its money well spent.