While this strange thing called nitro coffee has reportedly been out in the world since 2012, many people still haven't heard of it. The founder of Cuvee Coffee in Austin, Texas claims to be the first business to serve nitro coffee in their shops. He also claims to be the first coffee shop to debut nitro cans. Even if you've heard of nitro coffee, here are a few things you might not know about this new take on a classic beverage. If this is your first glimpse into the world of nitro coffee, be ready for your brain to explode.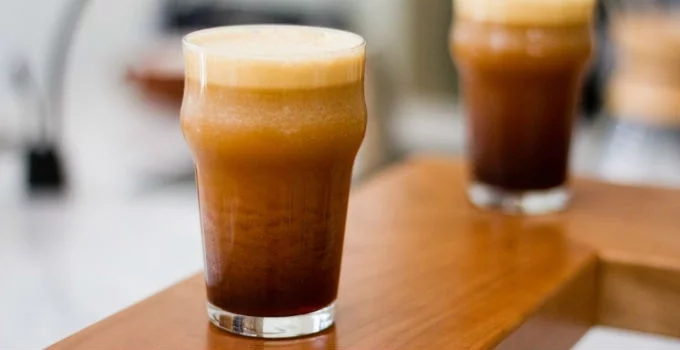 It's Nitrogen Infused
This odorless gas is added to kegs along with coffee to produce a foamy beverage that looks like beer but is actually coffee. It has a smooth taste and has the fizz of beer. The nitrogen impacts the taste and the texture of the coffee, so it's like a completely new coffee-drinking experience. Nitro coffee drinkers love that even when it's served black, it's a creamier coffee version. This leaves many coffee drinkers that have to have their cream and sugar with no reason to add anything to their nitro coffee.
Served from the Tap Like Beer
For many coffee lovers, the act of drinking coffee is all about the caffeine, but for others, it's about the experiences. This is an incredible way to start your morning. Coffee Beer is perfectly acceptable as a morning beverage! The nitrogen and coffee mixture is added to kegs, pressurized, and poured directly out of a tap. While this cold coffee doesn't require ice at all, some people do add ice to the drink to make sure it's frosty from the first sip to the last.
It's a Strong Caffeine Jolt
When there's less water in the coffee as well as less cream, ice and sugar, you'll get more caffeine with your morning java. It's a concentrated jolt that isn't diluted. The creaminess and coldness of the nitro coffee means that most drinkers won't need to add ice or cream to get it to the consistency that they love. This equals more of a jolt of caffeine to the system, and that's why most coffee shops recommend a smaller cup of nitro coffee.
Nitro Coffee Comes in Cans
If you don't have a location near you that sells nitro coffee directly from a tap, there's no need to despair. Nitro coffee comes in portable cans that are available in many grocery stores. If you desperately want to try this amazing coffee brew, you can always order it from the manufacturer who claims to have provided the world with this icy goodness first, which is Cuvee Coffee. There are other creators out there in the world, though. In fact, read on further to see that some major players have entered the world of nitro coffee.
Starbucks and Dunkin' Donuts
It wasn't until 2016 that Starbucks started to offer what it called a Nitro Cold Brew around Boston, New York, San Francisco, and Los Angeles. To compete with its own version, Dunkin' Donuts will be offering a cold brew they're calling craft coffee much like there are craft beers. If there's anything that Dunkin' Donuts drinkers love in New England, it's their ice coffees in the summer. With the nitro coffee, they'll be able to get that cold coffee without all the ice and cream that will dilute the coffee flavor.
Nitro Growler for Catering
The next step for nitro coffee seems to be carts pulled around major cities offering this tasty treat on the streets. Along with freewheeling carts pulling draft coffees, there's the opportunity for catering jobs with kegs of coffee. It could be great for businesses who want to serve their clients something cutting edge and unique. While it's becoming more popular, it's not a drink that everyone has heard about, yet.
Drinking Your Nitro Coffee
The foam at the top of the coffee is what makes this a beer-like experience. While you might need a cover if you're traveling with your cold brew, you should remove it once you get to where you're going. Remove the lid, drink it with gusto and proudly display your nitro coffee foam mustache to the world!
Low Calories
If you avoid coffee with tons of creamer and sugar because of the calories, you'll be happy to know that the nitrogen gives a creamy, sweetened taste to the coffee, which means you won't need to add any of the sweeteners. The beans also have a natural sweetness to them, but the entire cup of nitro coffee only has 5 calories. You won't miss the cream and sugar at all.
While you might not have heard of nitro coffee before this moment, you should head out immediately and give it a try. It's a coffee experience that can't be missed. Who wouldn't want a coffee beer for breakfast?