Marley Jamaician Blue Mountain Coffee advertises itself as a full-bodied coffee that has a rich, balanced flavor, and with a lingering sweet & mellow finish.

I had been dying to try it since I'd been hearing more and more about it these days as it will come up in the news, or I'll see it online as this very eco-friendly company. Oh, and I'm a big Bob Marley fan, so I was a bit shocked to see he apparently had his own brand of coffee beans.
I consider myself a fairly decent home barista, in that I feel like I really know what it takes to make a great cup of coffee, provided I have the time to make it right. The word was that Marley coffee was expected to have a strong, kick-you-in-the-pants flavor behind it, so I was expecting something like that.
Technically, I have no good excuse for making a bad cup of coffee. I've got all the equipment one might need. I have a home coffee roaster, even ( FrenchRoast SR500).
Not to mention, I have a pretty decent coffee grinder ( Breville Smart Grinder), and my Cuisinart coffee maker, and a few other things that one might need to get the job done right.
Taking The Time To Brew It Right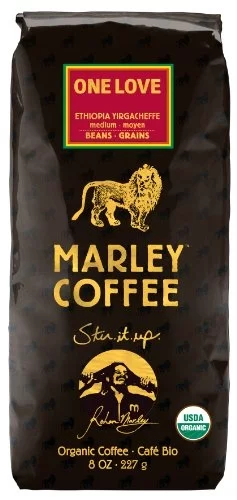 I bought the whole bean version of the Marley Coffee because I wanted a crack at grinding the beans myself, rather than go the K cup route (which Marley coffee also comes in).
From there, I wanted to take my time preparing and brewing this coffee so that, after a few weeks, I could really get some perspective on how this coffee tasted.
So, I really took my time on my first cup. I did every little trick I'd heard about or seen on YouTube, or picked up watching them at the coffee shop, including pre-heating my "vessel" with some hot water so as not to "shock" the coffee when it hits the surface of the cup (normally not something I do but this time yeah I did it).
I made sure to grind my beans just before I brewed, to make sure everything was super-fresh.
The results, I'm happy to say, were overall very good! My coffee was good and strong, but not overpowering. The smell is really what got me. This Marley Jamaican Blue Mountain Coffee has an aroma to die for. I picked up a bag of decaf as well so I could have a few late night cups, and the decaf I'm pleased to say was nice as well.
Check the price of Marley Jamaican Blue Coffee on Amazon
Describing The Flavor
I found the taste to be very balanced, with notes of citrus and berries, and no "spikes". Everything was very smooth. I like my coffee black, too, so there was no hiding behind cream and sugar for this coffee. This coffee just has a naturally good taste, which is really all you can ask of a coffee at the end of the day. I'd done some homework on Jamaican Blue Mountain coffee, so I knew basically what to expect from the flavors therein - natural sweetness, bold flavors, and an even acidity.
A great cup of coffee from a great company with Marley Coffee. I'll definitely have to order more!
More About Marley Jamaican Blue Mountain Coffee
I wanted to talk a little bit about what Marley coffee is all about, and why I was interested in trying it in the first place.
First off, you should know that the Marley Coffee company is a forward-thinking socially aware coffee-producing enterprise which is currently addressing concepts such as eco, recycle, and environmental impact.
It is a company owned and operated by Bob Marley's son, Rohan Marley, who said:
"Marley Coffee was created to bring people together to share in our family's values of love, passion and social responsibility."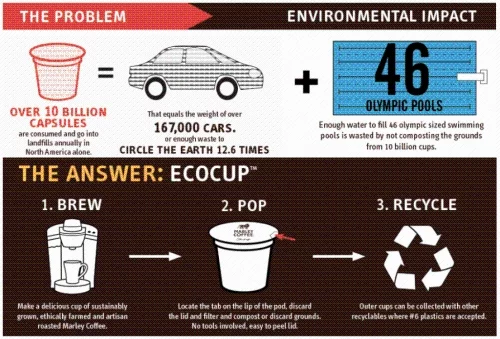 Rohan goes on to say that … "Our recyclable EcoCup will provide consumers with a delicious, organic and sustainable coffee that is truly accessible. I am proud of the new packaging, which calls out both the recyclability of the capsules and also our sustainability initiative, the Water Wise Coffee Project.
By supporting EcoCup , consumers are not only helping to reduce waste, but also contributing one cent of every single-serve capsule sold to improving water quality in regions affected by coffee production. We're proud to bring this new sustainable solution to market, and are looking forward to the global impact that we can make in reducing waste."
So you can see that Marley Coffee is committed to doing what's right, and that's sadly not the case with every coffee farm. Their coffee is USDA Organic or Rainforest Alliance Certified. They regularly support non-profit organizations as well.
Next, it is worth knowing that Jamaica is the first country in the world to establish a defined geographic location designated to a specific coffee brand - Marley Coffee, which is made specifically with Arabica Typica beans.
Marley coffee does things differently than other coffee companies, and I think this is ultimately reflected in the taste of their coffee.
Making A Difference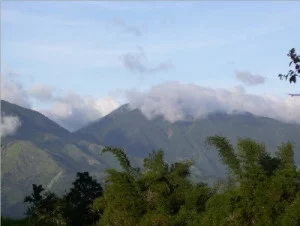 Grown in the majestic Jamaican Blue Mountains, which is well known as one of the best coffee-growing locations on Earth. In this location, Marley coffee is grown under the organic banana, inga, and mango trees.
The soil, climate, and basically all of the circumstances here in this region are ideal for growing coffee, resulting in aromas and flavors in the final cup that transports you to this location with just a single taste. Trade winds bring moisture for gradual sugar conversion.
Here's a little documentary on Jamaican Blue Mountain Coffee if you'd care to have a look!
Positive Rasta Philosophy - Marley coffee is dedicated to not only creating great tasting coffee, but helping the planet by growing their coffee plants in soil which is toxin-free.
Their dedication to organically grown coffee shows that Marley coffee not only cares about making a better product, but they care about people too, and the environment.
Here's Rohan Marley (the president of the company) visiting the Marley Coffee Chile location and essentially having a great time with everyone. You can tell the guy is into his job.
With Marley coffee, you get organic coffee with no pesticides, herbicides, fertilizers, or additives. This is good for everyone from the people growing it to us, the coffee drinkers who demand better coffee.
Obviously, because Marley coffee is run by Bob's son, Rohan, this coffee also comes from a tradition of unity and treating the planet with respect that was in Bob's music.
Ethical Farming - This is a big one for me, because not all coffee farms are run this way, as I was saying before. Here, weeds are removed by hands by workers who care and take pride in their work. The roasting is done with artistry and attention to detail.
Quality Control - Cupping occurs which tests Marley Jamaican Blue Mountain Coffee for color, roast, flavor, aroma, acidity, body, and after-taste.
You can be sure that after Marley Coffee is put through some rigorous testing (with T.L.C., of course) the taste is going to be phenomenal. Beans are hand-picked, sun-dried, graded by size, density, and color.
Quality is controlled using traditional methods that have been handed down through generations. The result is a balanced floral taste with a low acidity and full body.
Check out what the Globe Newswire paper in Denver said about Marley Coffee on Aug. 13, 2015:
"Marley Coffee, the sustainably grown, ethically farmed and artisan-roasted premium coffee company, today announced the first official retail shipment of the new recyclable EcoCup , an easy-to-recycle single-serve capsule that's compatible with most Keurig® K-Cup® machines. The recyclable EcoCup directly addresses consumer frustration with a lack of recyclable options in the single-serve capsule space, offering great-tasting, premium coffee in a sustainable format that will dramatically reduce the amount of waste in comparison to that produced by traditional capsules. Created in a strategic partnership with Mother Parkers Tea & Coffee, Marley Coffee is the first premium coffee brand to bring this sustainable solution to market, five years ahead of industry giants including Keurig Green Mountain."
Marley Coffee Company has incorporated smart marketing techniques with its across the country "taste" campaign and they are determined to eliminate the billions of self serve capsules discarded annually in our landfill sites with their new recyclable EcoCup!!! In stores as of July 2015 across the U.S.
This is what the world is saying …
"Yes it's Pricey, but it's So Very Delicious!!!""The Best""Heaven in a Cup"
I must agree, this coffee is very good!