Last Updated on
By: Know Your Grinder
Today we review the Baratza Forte Coffee Grinder. 
The Baratza Forte is available in two configurations; the AP (All-purpose) and the BG (Brew Grinder).
Both versions of the Baratza Forte are compact, practical, commercial-grade grinders suitable for a variety of different settings. 
Both models have full metal construction for durability, a small footprint, and easy-to-use controls to limit the time required for staff training.
Dimensions: 13 X 36 X 18 cm
Weight: 13 lbs.
Capacity: Holds 4.5 oz. of ground coffee, and 10 oz. of beans
For Business or Pleasure – Your Choice!
The Forte is a fairly small grinder, and will work well in a restaurant setting, provided that coffee / espresso is not being ordered at the pace of a busy local café,
If you were to use it in a coffee shop setting, it could make a good dedicated grinder that would site beside the grinder doing the bulk of the grinding during a given shift.  It all really depends on your business and how much coffee you go through.
For a home grinder, it's great as your own personal espresso grinder, because it operates at essentially a pro level, with micro-adjustments available.
It is no surprise to us that Baratza grinders, generally, are preferred by Specialty Coffee shops and are even used in various competitions world-wide.  They are a brand that rarely lets us down in the world of coffee grinding.
The hopper holds 300 grams of coffee beans, but an extender is available to increase its size.
It has a petite footprint, and is short enough to fit comfortably under upper cabinets in a home or office kitchen.
---
Features
Even though Baratza Forte AP has a small footprint, it offers a large, shall we say "presence", so that if this is your office or home grinder, it will likely elicit some oh's and ah's from those who encounter it.
Because it is easy to use, and versatile, is quickly impresses coffee lovers who love to be snooty about their coffee.  This machine allows them to be even snootier, in a way.
---
Design
The first thing you notice with the AP is the classy-looking metal body that gives the whole grinder a bold and formidable presence, while offering a touch of class to it's industrious nature.
Comparatively, Forte BG is a bit bulkier than AP, but that is due to its more commercial agenda of being better for café environments.
It's the grinder your baristas at local shops might use to prepare your tasty cup of coffee, and so the bulk is warranted, as it has a bit more horsepower built in.
Design-wise, it's very similar to the AP, featuring a design once again while looks bright and shiny and durable. Still, neither of these grinders are too big or cannot be stored in a cupboard somewhere.
---
Grind Settings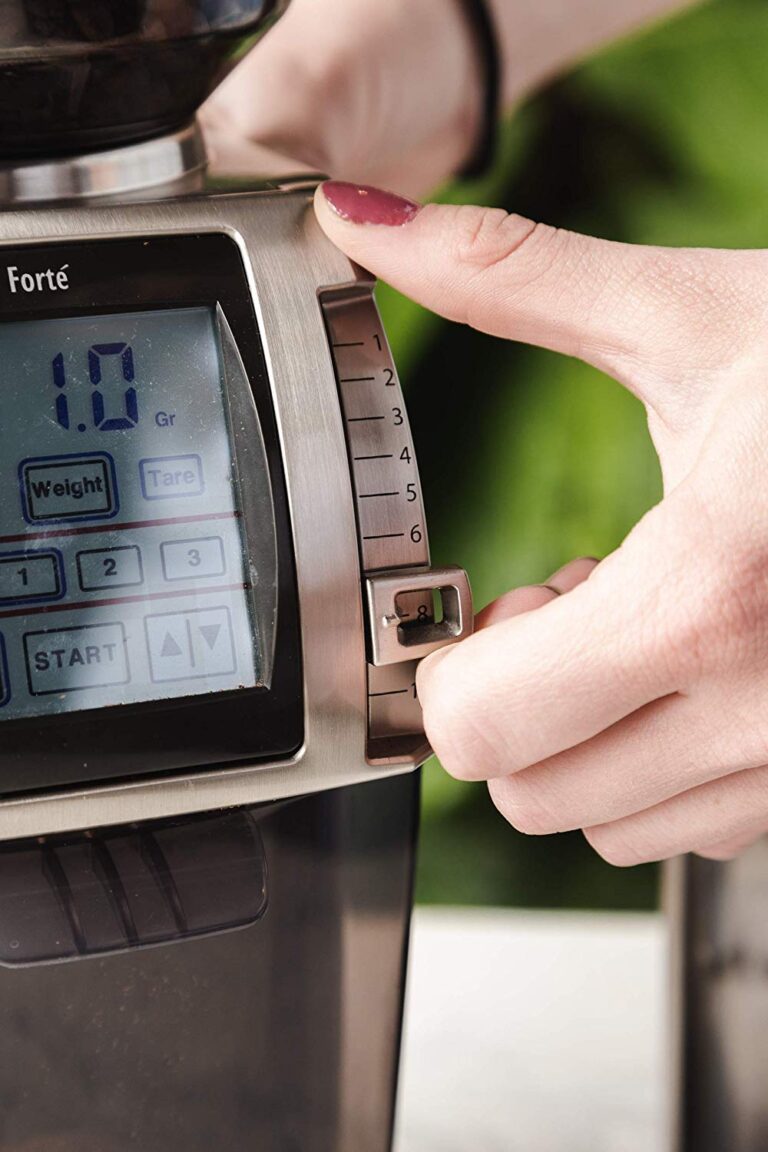 Forte AP is a true all-purpose grinder which offers 260 grind settings. There is no doubt you will find your perfect setting to achieve a precise and consistent grind every time.
It's ideal for espresso and all brewing styles, really.
While the BG doesn't come with as many grind settings, it still has a decent amount of settings – enough to suit the home brewer who wants to fiddle around and dabble with numerous brewing styles, even going so far as to do the elusive "Turkish" grind if you crank the settings to as fine as they'll go.
Specifically, BG comes with 10 distinct and repeatable settings with additional 26 distinct settings, and 10 macro steps for the most precision.
---
Ceramic Flat Burrs
Both Forte AP and Forte BG offer a high performance grinding power thanks to the ceramic flat burrs. These are 54 mm burrs we are talking about and they offer consistent and accurate grind, no matter the coffee type.
Therefore, both grinders are ideal for small and individual batches of grinds – which is something that's ideal for both personal and commercial use.
But what's surprising enough is that Baratza designs their own burrs which are specially customized to enhance the flavor, and still offer a broad range of grind with a narrow particle distribution.
---
Weight & Time
By now, you probably think that things can't get more accurate and nitpicky with these Baratza grinders – but, yes they can.
Forte AP & BG grinders come with a special feature that works with an integrated digital scale to accurately weight dosing. It also has a digital timer for dosing to allow the users to completely customize their grind.
This way, the Forte will adjust to your needs in just about every way one could want.
---
Touchscreen
With a simple touch, the bright LED screen awakens and is ready to help you control all the operations at one place.
Therefore, you get to choose between three programmable dose presets, increase or decrease the dose values, start, or stop the grinder.
---
What Can You Grind
Since both AP and BG grinders are ideal for both commercial and personal use, they are able to make a great fit whatever grind / brew journey you want to take.
Forte AP grinder comes with 260 grind settings so you can dial anything from espresso to all other brewing styles.
This makes it an ideal fit for low volume, single origin, or even a decaf espresso.
On the other hand, Forte BG grinder has the ability to offer a high volume coffee and multiple brewed offerings at a time.
You can load the machine with different coffee and with a touch of a button choose between a setting to grind anything from fine to coarse.
Forte BG grinder comes with two micro-adjust moves where one offers 10 distinct and repeatable settings, while a secondary micro-adjust that offers 10 macro steps with 26 distinct settings.
This leaves users with plenty of choice to achieve the personalized and custom coffee grind that will provide consistency and accuracy throughout the day.
---
Includes
Both Baratza Forte AP & Forte BG include a bean hopper that offers a capacity of 300 grams along with initial grounds bin capacity of 170 grams.
However, there are additional accessories such as hopper extension which can add up to 275 grams to the existing 300 gram capacity.
Also, you can additionally purchase metal porta-filter holder that makes grinding directly into porta-filter a lot easier. However, this accessory only works with a timing function feature.
From the most useful accessories that come included, we must mention the special calibration tool.
Even though the Baratza Forte AP & BG are calibrated at the factory for the most accurate grinding results – re-calibrating them is made very simple.
---
Maintenance
Both grinders offer a pretty simple and easy maintenance which Baratza made simple by introducing removable burrs with the help of a cast zinc tool that comes included.
However, with 54 mm burrs, you won't have a hard time cleaning the burrs. And since burrs are being the main part of the grinder, there isn't a lot maintenance required.
---
Pros
Designed as commercial solution
Multi-offering ideal for pour-over bars
Decent bean hopper capacity
Built-in electronic scale
Pre-programmed grind presets
Very precise grind adjustments
Cons
Touchscreen isn't very responsive, some users report
Warranty only lasts a year
---
Conclusion
Whether you're drinking a lot of coffee, you're looking to for a quality grinder that will last, or you're just looking for a grinder that will meet your expectations – Baratza Forte AP & BG are a great choice.
Even though they differ in quite many things, they're top of the class and it's up to you to choose which model fits your grinding needs the best.
If you lack some space, Baratza Forte AP is a better option. Even though both grinders have a small footprint – Forte BG is a bit wider than AP grinder.
The most important features, such as grinding capacity, conical burrs, and maintenance are very similar in both models.
One thing you should check out closely is the grinding settings. Even though Forte AP grinder is very versatile, if you're a espresso drinker, you might find BG to be more useful.
Lastly, the price point is very similar – so that's something you shouldn't be worried about. With grinders at this price range, it's all about finding the one that will adjust to your needs – instead having you adjust to the grinder.