Last Updated on
By: Know Your Grinder
If you are a fan of Turkish-style coffee like we are, then you probably know that you can buy the authentic Turkish coffee equipment to go along with it, such as pots and also entire serving sets.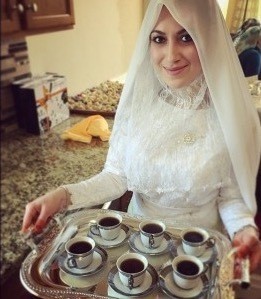 The Turks love their coffee, and the way it is brewed and serve is part of the ceremony they have around coffee, and it event affects the way it ends up tasting.  
So why not go the whole nine yards and take a look at some of the great Turkish coffee equipment that's available today, as much of it is not just stunningly beautiful, but it also can be used to prepare coffee in a way you may never have thought of before.
In this article, we look at three of our favourite authentic Turkish coffee pots and serving sets that are available on Amazon now.
---
Bosphorus Silver 16 Piece Turkish Coffee Set
QUICK STATS
PIECES: 16
MATERIALS: PORCELAIN, BRASS, COPPER
MANUFACTURER: BOSPHORUS
SERVES: 2 PEOPLE
FREE SHIPPING: YES (WITH AMAZON)
OUR RATING: 5 STARS
"Silver" 16 Pieces Turkish Greek Arabic Coffee Set With Cups Saucers Copper Pot Sugar Bowl And
This is a genuinely charming little set, featuring much more than the authentic Turkish copper coffee pot that comes with it. 
Complete with a tray, this silver-colored service set is the perfect accompaniment to a dinner party or maybe just an intimate soiree for two people.
With a thickness of 1mm and engravings, the pot that comes with this set has a capacity of five ounces, which is approximately enough for two small two ounce cups and a little to spare.  
This cezve, as pots are known in Turkish, is just the right size for doing two cups of Turkish, or indeed Greek or Arabic coffee in. 
The tray itself is in brass, albeit silver-colored, measuring five inches by twelve and also has a sugar dish, with a six ounce volume.
In addition to the two brass cup holders, lids and saucers are the two porcelain cups.  There is also a Turkish delight holder and lid.
If this wasn't enough to convince you, it comes with a complimentary 3.3 Oz. Packet of Premium Mehmet Efendi Turkish Coffee, to give you the complete Turkish coffee experience.  
Made by Bosphorus, this is definitely an authentic piece and features everything you could possibly need to get started in the world of Turkish coffee.
Affordably priced on Amazon considering what you get here and in terms of the craftsmanship that has gone into it.
It will make a fabulous gift for someone who is happy to be initiated into the Turkish coffee habit, or even just wants something to put on display.
With care, there is very little that can go wrong with a set like this and it just needs some tender cherishing to keep it in tip top condition.
ONE CUSTOMER SAID THE FOLLOWING:
"This is a really pretty set and looks exactly like it is pictured. It was extremely well packaged and is both functional as well as nice to look at. The pot makes great coffee too."
---
Update International 12 oz. Turkish-Style Coffee Decanter
QUICK STATS
MATERIAL: STAINLESS STEEL
VOLUME:  12 OUNCES
DIAMETER (TOP):  3.5 INCHES
DIAMETER (BASE):  3 INCHES
HANDLE LENGTH:  5.25 INCHES
SHIPPING WEIGHT:  3.2 OUNCES
FREE SHIPPING:  YES. WITH CONDITIONS
SERVES:  4 PEOPLE
MANUFACTURER:  UPDATE INTERNATIONAL
OUR RATING:  4.8 STARS
Perhaps not quite as pretty as some of the other copper based, tin-lined "authentic" pots, but this little pot is still all you will require when it comes to the masterful creation of the perfect Turkish coffee.
Made in stainless steel, with a heat resistant handle (useful in its own right for not scalding your fingertips) this really ought to last good long time.
This is far larger than the previous pot in the set above, with a capacity of twelve ounces – which should be plenty for serving four people. 
It is also versatile and you can make espresso with this, with many people attesting to its superior durability over the glass carafes that are prone to, well, smashing.
Modestly priced at under ten dollars, if you want something long-lasting that also produces superb Turkish coffee, look no further.
CUSTOMERS SAY:
"I actually bought this for use with espressos as so many of the glass jugs broke or cracked on me and I haven't been disappointed. "
"Easy to use and clean. Good value"
"You can make decent Turkish coffee with this pot, it is definitely a lot better than the small milk pan I was using before. The result is now nice and creamy and it's a lot better because the handle does not get hot on the stove."
---
Large Turkish Coffee Pot With Metal Handle
QUICK STATS
MATERIAL: COPPER
SHIPPING WEIGHT: 6.4 OUNCES
MANUFACTURER: ARIFOGLU CEZVE
SERVES:  4 PEOPLE
FREE SHIPPING: NO
OUR RATING: 4 STARS OUT OF FIVE
Definitely on the inexpensive end of the scale is this cute Turkish coffee pot with metal handle from Arifoglu.
This looks small but can hold enough for four Turkish coffees, or espressos, quite easily.
Authentic in appearance as well as low in cost, this is probably a combination that is fairly rare as well as being sought after.
However, depending on where you live, it is quite possible that the shipping costs will bring this to a fair bit more – with the postage being more than the actual item.
As with anything on the lower end of the cost scale, there are one or two complaints about it.
The most notable one seems to be some questioning (by a minority of customers) whether this is genuine copper and one or two remarks about the quality of the packaging.
Unfortunately, for under $5, it is probably wise not to expect the gold standard when it comes to the extras.
Most buyers, however, are more than satisfied with this little cezve that both looks the part and is perfectly functional.
One word of warning though, the handle – unsurprisingly – could get hot during use.
This seems to be a bargain and probably worth purchasing if you want an authentic Turkish coffee experience without the huge price tag.
CUSTOMERS SAY:
"My roommate is Turkish and he was impressed with the coffee that I made with this – so it must be pretty decent."
"Slightly odd packaging but it does the job that it is designed to do."
---
A WORD OF ADVICE ABOUT TURKISH COFFEE POTS AND SERVING SETS
In doing this review, we have heard a lot comments about the pots not being "big enough" for the job in hand and that they are mere ornaments, which look pretty but are not really serviceable.
Please rest assured, these are not simply pretty sets, nor are they for display purposes only.  
These are real coffee pots and they are big enough for making Turkish coffee, which, like a traditional espresso, is much smaller than a normal cup of coffee.  
When you purchase a Turkish coffee pot or serving set, remember that you are entering a different world from one you are normally used to.  
Enjoy, and thanks for reading!
---
HOW TO MAKE TURKISH COFFEE VIDEO