Last Updated on
By: Know Your Grinder
What is BPA and What are the Dangers?
The chemical has been used in the production of certain resins and plastics since the early 60s. Water bottles, baby bottles, hard plastics, and food cans have been known to contain BPA.
Research has indicated that BPA can soak into the foods and liquids stored in these plastic containers.
While the FDA (U.S. Food and Drug Administration) has claimed that BPA is safe in small doses, many people are deciding that they'd rather be safe than sorry.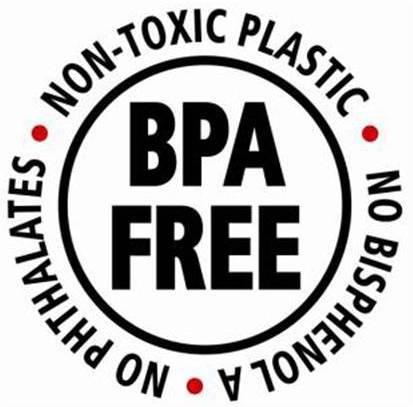 Exposure to high levels of BPA can create health risks like high blood pressure and can alter hormone receptors.
BPA can mimic estrogen in the body, which can have a negative impact on your health.
It's not hard to see why people are concerned about BPA-free products.
So, now that everyone in North America is running screaming from the evil that is Bisphenol A or hardened plastic parts in food and beverages items, aka BPA, the question is, what is a coffee lover to do? 
Give up the beloved bean and live the rest of your days collecting rainwater with only your tongue?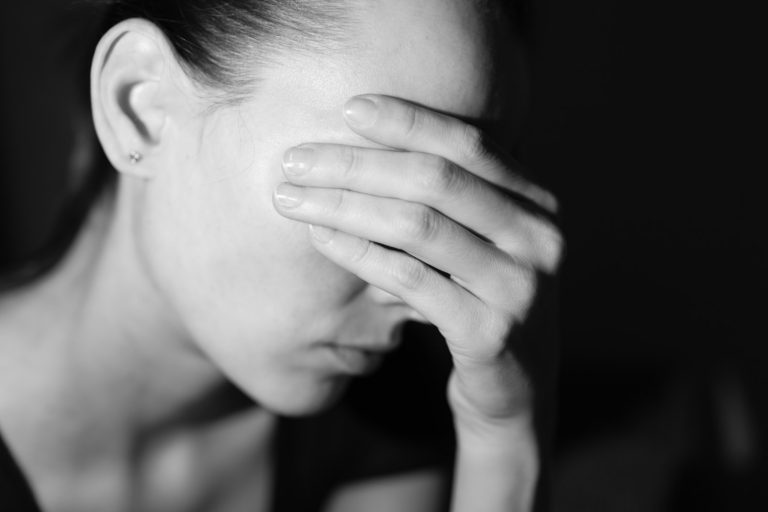 Perhaps not. Fortunately there is a more sensible solution.
It is entirely possible to purchase BPA-free coffee makers, plastic free coffee grinders, a coffee maker without plastic or a BPA free drip coffee maker.
It just takes a little effort and a bit of legwork… which fortunately you do not have to do as we have helpfully compiled a list of some of the best BPA free coffee makers that are out there.
Bialetti 06800 Moka Stove Top Coffee Maker 6-Cup Silver
Kalita Wave 185 Drippers
Bodum Columbia Thermal French Press Coffee Maker, Stainless Steel, 34 Ounce, 1 Liter (8 Cup)
Presto 02811 12-Cup Stainless Steel Coffee Maker
The Details of Our Determination
When looking for a BPA free coffee maker, you're trying to find makers that don't have hardened plastic. It's especially harmful when it's coming into contact with the water, grind, or coffee itself.
Materials like glass, metal, or ceramic are safe because they don't have the chemical in their makeup.
When we were testing and making our decision for who should make this top 10 list, we put a lot of consideration into the coffee maker itself.
Quality matters. Durability and the ease in which you can learn to use the coffee maker is also a consideration.
---
Quality Materials and Construction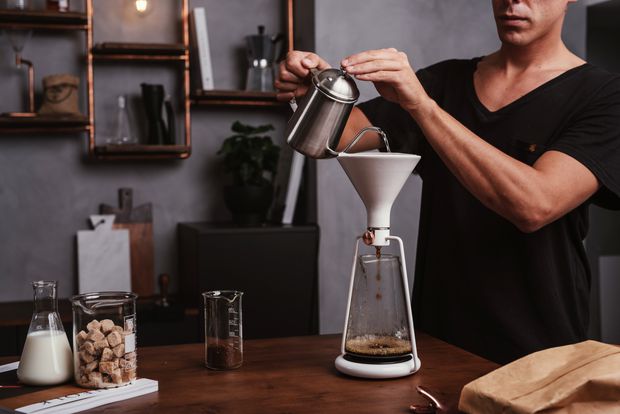 The products we honed in on were ones from companies that pride themselves on their quality materials. They've been around for years because they're trusted brands.
That wasn't the only consideration, though. We also didn't rely on our own opinion about the quality. We took reviews and customer satisfaction into account.
---
Durability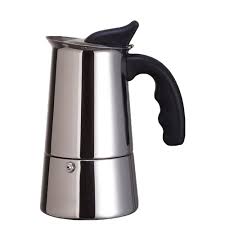 You want a coffee maker that will last for a very long time. It's not unreasonable to expect years of enjoyment from your coffee maker.
When you're choosing a BPA-free coffee maker, you're actually getting ahead on durability already.
The materials are stainless steel or aluminum, which is very durable. 
---
Easy to Maintain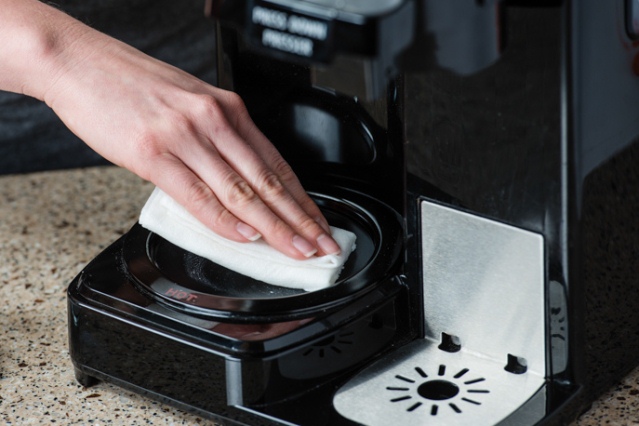 To keep your coffee maker in the best possible condition will stretch its life. You have to take some responsibility for the time that the coffee maker lasts.
If you don't clean it, it becomes clogged and won't work for very long at all. It should be a simple matter to clean and maintain the unit.
---
PRESTO 02811 12-CUP STAINLESS STEEL COFFEE MAKER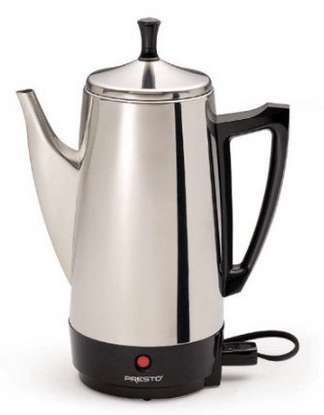 COFFEE MAKER TYPE: PERCOLATOR
MATERIAL: STAINLESS STEEL
OTHER MATERIALS: ALUMINUM
MANUFACTURER: PRESTO
DIMENSIONS: 13.1 X 9.7 X 6.2 INCHES
WEIGHT: 3.5 POUNDS
PRICE: AROUND $38
CAPACITY:  2-12 CUPS
OUR RATING:  4.4 OUT OF FIVE STARS
This Presto 12-cup coffee percolator makes coffee pretty fast at 1 cup per minute. The entire percolator is made from stainless steel.
Guaranteed to be without BPAs, and even the filter basket and perk tube are made of stainless steel.
This is an elegant percolator that you can unplug and set on your dining table for guests.
Often overlooked, the percolator is an excellent choice for those attempting to avoid plastic brew parts.
It is possible some of the non-brew parts may be plastic (ie the handle etc).
This is a hard-wearing, long-lasting, stylish item that looks graceful in any kitchen and takes up a lot less space than a lot of other coffee makers will do.
Customer comments:
The customers who have purchased this percolator over the years have said it's provided the best coffee they've every had.
Of the thousands of reviews we read, (to see if their opinion matched our own) we noticed that the average time people owned the percolator was 6 years. They were happy with the machine, and it was still going strong.
We noticed that customers went back to add to their reviews because they were still thrilled with the device. That's saying a ton about customer satisfaction and happiness.
---
BODUM 1308-16 COLUMBIA STAINLESS STEEL THERMAL PRESS POT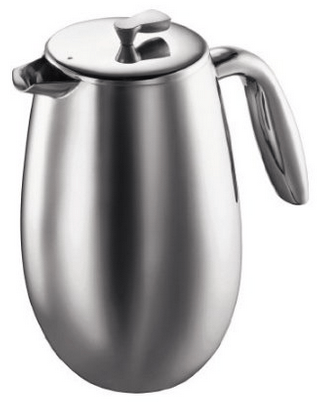 COFFEE MAKER TYPE:  FRENCH PRESS
MATERIAL:  STAINLESS STEEL
OTHER MATERIALS:  SILICONE
PRICE:  $65+
MANUFACTURER:  BODUM
DIMENSIONS:  8.7 X 6.9 X 5.3 INCHES
WEIGHT:  1.9 POUNDS
SHIPPING WEIGHT:  2.3 POUNDS APPROX
CAPACITY:  8 CUP (34 OUNCES)/OTHER SIZES AVAILABLE
DISHWASHER SAFE:  YES
OUR RATING:  4.6 OUT OF FIVE STARS
Most French presses are glass with some inner and outer plastic parts which come into contact with the coffee.
This sleek Bodum French press body is all stainless steel.
It has some components which are plastic and silicone, but not in direct contact with the beverage.
Steel is a great material for hot coffee. This French press has a double wall to hold in the heat.
Instead of a glass carafe in your coffee maker that leaches heat, you'll have this stainless steel design that holds in all that coffee warmth.
The plunger and the mesh in this French press are also made from stainless steel.
You'll get a fuller, aromatic cup of coffee without leeching oils into paper or adding BPA to your body.
Customer comments:
One of the biggest features that touched customers was the closed position of the lid. In some models, there is a significant gap in the spout.
That's not the case with this coffee maker. It'll keep your coffee hot longer because heat won't escape through the lid.
To keep it hotter even longer, one customer suggests heating the steel in hot water prior to making coffee. You'll get even more heat for a longer period of time.
Customers love how easy it is to clean this coffee maker, too. That's a huge plus when dealing with coffee. Any leftover residue is going to impact the taste of your brew. 
---
OXO ON 9 CUP COFFEE MAKER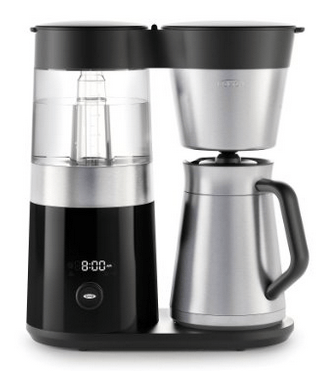 COFFEE MAKER TYPE: SIMPLE COFFEE MAKER
MATERIAL: STAINLESS STEEL
OTHER MATERIALS: SILICONE
PRICE: AROUND $200 (PRICE MAY VARY)
MANUFACTURER: OXO
CAPACITY: 9 CUP
DIMENSIONS: 14.2″ x 6.7″ x 15.2″
WEIGHT:  7.7 POUNDS
PACKAGED WEIGHT:  11.2 POUNDS
OUR RATING:   4.6 OUT OF FIVE STARS
SCAA-approved, the OXO ON 9-Cup is a stylish and also rather technological looking contraption that is sure to impress just as much for its looks as its tasty coffee.
You can choose between brewing 2-4 or 5-9 cups at a time. 
Despite looking scary, it is not as difficult to operate as you may be thinking.
The thermal carafe ensures things are kept HOT which is a complaint of many a more "traditional" coffee brewer.
There are great things about this coffee maker. It has a rainmaker shower head. Instead of one drippy line in the middle of the grind, the water is released evenly for a uniform flavor.
Of course, it's also made of stainless steel with some glass thrown in to make the entire coffee maker very sleek. With all that steel, there are definitely no BPAs in the maker.
Customer comments:
There are many features that customers love with this coffee maker. One of the most popular is the brew stop feature.
If you want a cup of coffee before the full pot is finished, you can easily get one without scalding your hand.
Removing the carafe will instantly pause the coffee. You won't have to wait or pull back quickly just to avoid being burned.
This is another coffee maker with customers who can't stop raving about the great features. Many of them loved it from the first few days and for years after. They updated reviews because they were so satisfied with the device.
---
KALITA WAVE DRIPPER 185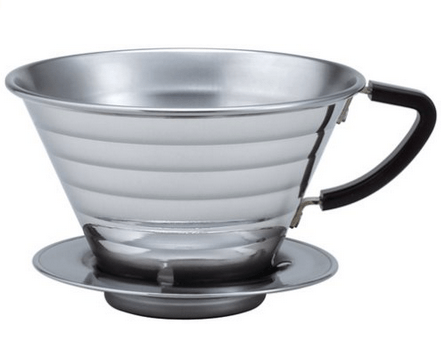 COFFEE MAKER TYPE: SINGLE CUP BREWING
OUR SUGGESTION:  
MATERIAL: STAINLESS STEEL
ALSO AVAILABLE IN: CERAMIC OR GLASS
MANUFACTURER: KALITA (CARITA)
CAPACITY: 3-4 CUPS PER UNIT
DIMENSIONS: 2.59"X4.52"X5.43"
WEIGHT: 0.26 POUNDS
PRICE: AROUND $20 (PRICE MAY VARY)
OUR RATING:  4.6 STARS OUT OF FIVE
The biggest problem with your typical coffee maker is the filter or basket that holds your coffee grind. When the hot water soaks into the basket, it's pulling chemicals into your coffee.
This Kalita Wave dripper 185 completely eliminates the BPA from the coffee without you having to replace your coffee maker entirely.
There's something refreshingly old school and simple about this elegant Japanese import. It does what it says on the tin, or cup.
Available in three different materials, ceramic, glass or stainless steel. This combines the practical with an effective coffee filtering system for stress-free one-cup satisfaction.
This particular version will provide up to four cups. If you just want the smaller, one cup size you could try the smaller 155 filters and wave brewer.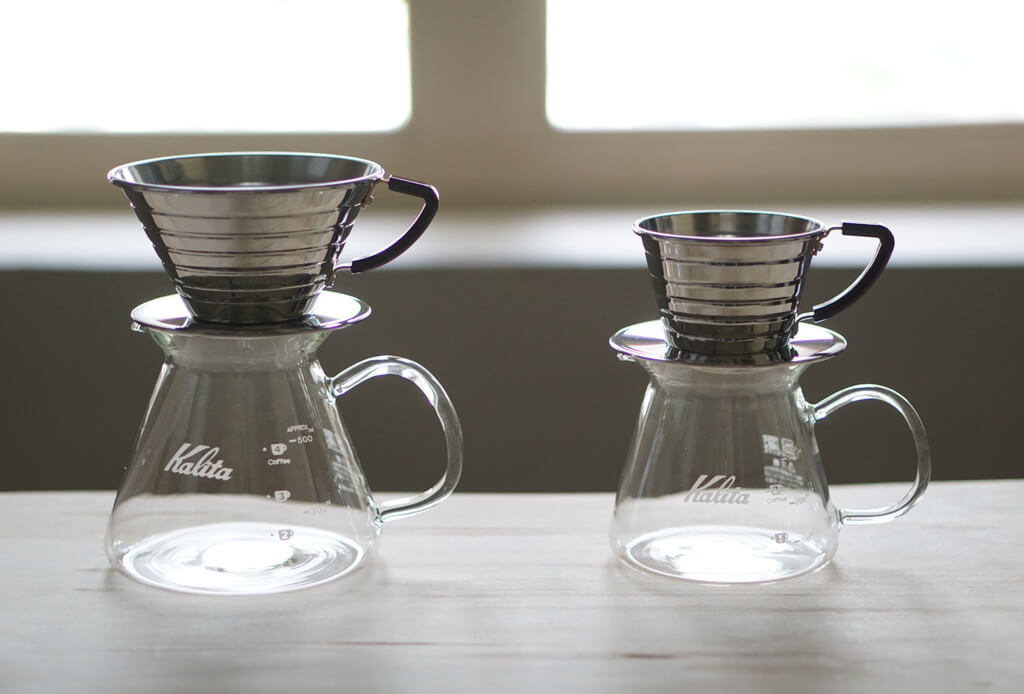 Proving once and for all that a decent cup of coffee doesn't have to be a colossal carry on, take up acres of kitchen space or need an engineering degree to master!
We spoke with Maxwell Mann over at Kalita USA to get his take on just why the Wave Dripper is such a unique BPA-free coffee maker. 
He said: "The benefit of the Kalita Wave Dripper is its geometry. Its flat bottom design promotes a more even brew bed during the extraction process. The more even the extraction of each ground particle of coffee is, the more clarity and sweetness you will get in the finished cup.

We like to make the analogy that brewing coffee is like trying to grill a bunch of really tiny steaks to a perfect medium rare. As you can imagine that's a bit of a difficult process, so any device that promotes more even brewing is a device that is ultimately superior to a product that does not."
Customer comments:
While you might pride yourself on a great cup of coffee, there could be times when you're not prepared to spend the time needed. You're in a rush to work. You don't have time to prepare the filter. Your measurements are off.
Several customers report that all of those things don't seem to matter with this dripper. It'll make a consistently good cup of coffee every time.
That's a good thing if you have a spouse who doesn't take the same care that you do for coffee making, too.
You won't have to suffer through bad coffee for anyone.
---
HARIO VDC-02W V60 CERAMIC COFFEE DRIPPER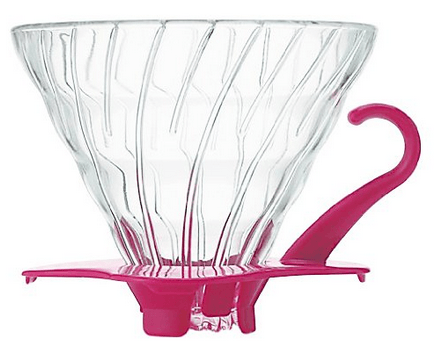 COFFEE MAKER TYPE: SINGLE CUP BREWING
MANUFACTURER: HARIO
MATERIAL: CERAMIC
COLORS:  WHITE, RED
OTHERS AVAILABLE:  GLASS, METAL
CAPACITY:  1-2/1-4/1-6 CUPS
DIMENSIONS:  4.3 X 3.9 X 4.2 INCHES
WEIGHT:  10.4 OUNCES
PRICE:  AROUND $14 (PRICE MAY VARY)
OUR RATING: 4.6 STARS OUT OF FIVE
The ceramic nature of this dripper from Hario for pour-over coffee means that you're completely avoiding chemicals like BPA.
The ceramic or heat-resistant glass – depending on your choice – won't have chemicals to cause health issues.
Once again, when you get the knack of this little thing, single cup masterpieces should be in the bag.
It pays to take some time, watch the videos and read some comments to get tips on the best ways to brew with your Hario one cup dripper. 
There is nothing pretentious about these models and they have the added advantage of being small and easily transportable for those wanting good coffee fast, needing only a hot water supply to use. 
Beware of imitations!
Customer comments:
Customers have been most impressed with the size of the hole that drains the coffee into your carafe.
Other drippers have small holes or three holes that drain slower. Those have their own advantages, but this one makes a quicker cup of coffee.
Users only have to pour water once or twice. They don't have to wait and pour 6 or 7 times while waiting for the water to dribble out of the device.
---
THE ORIGINAL BIALETTI MOKA POT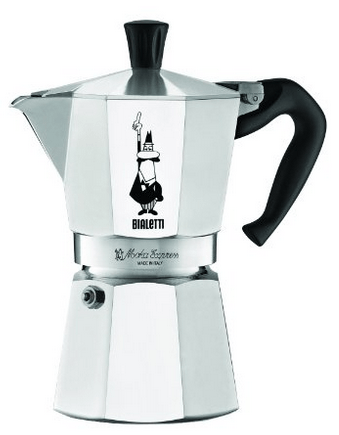 COFFEE MAKER TYPE: MOKA POT
MANUFACTURER: BIALETTI
MATERIAL: ALUMINUM
COLORS: SILVER, BLUE, RED, ORANGE, PURPLE
CAPACITY: 6 CUP/ OTHER SIZES 1,3,9 & 12 CUP
DIMENSIONS: 4 X 4 X 9 INCHES
WEIGHT: 1.8 POUNDS
PRICE: AROUND $30.00 (PRICE MAY VARY)
DISHWASHER SAFE: NO
OUR RATING: 4.5 OUT OF FIVE STARS
There is definitely a knack to using this old-fashioned and highly distinctive octagon pot from Italy, known as the Original Bialetti Moka Pot.
Follow the manufacturer's instructions carefully, especially regarding heating and cleaning and you will be knocking out five star coffees of all varieties in no time and with relative ease. 
This stainless steel coffee pot will never allow BPAs into your hot espresso cup. It's an old-fashioned and interesting method of making coffees like people would in countries like Italy or Turkey back before electricity.
Be warned: do not overheat!
Customer comments:
This coffee maker has over 7,000 customer reviews that are glowingly positive.
They love the fact that this is a reasonably priced alternative to an espresso machine. It's manual, though, but that seems to hold the most appeal for people.
Instead of an espresso machine with all the buttons and details, this is a simple way to make a delicious cup of espresso.
The pressure available from the pot doesn't reach the level of espresso machines, but customers have no complaints about the taste.
This is a coffee maker that inspires people to buy more than one. Most of the customers who reviewed the pot have more than one.
Read our full review of the Original Bialetti Moka Pot
---
CHEMEX 6 CUP CLASSIC SERIES COFFEE MAKER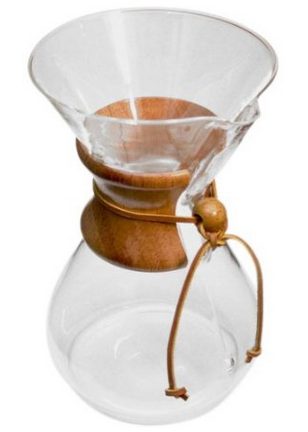 COFFEE MAKER TYPE: CHEMEX
MANUFACTURER: CHEMEX
MATERIAL: GLASS
OTHER MATERIALS: WOOD, LEATHER
CAPACITY: 30 OUNCES/6 CUP OTHER SIZES AVAILABLE 3, 8 &10 CUP
DIMENSIONS:  5 X 5 X 8 INCHES
WEIGHT: 1.7 POUNDS
SHIPPING WEIGHT: 1.9 POUNDS
PRICE: AROUND $47
OUR RATING: 4.7 OUT OF FIVE STARS
RELATED ARTICLE: CHEMEX AND HOW TO BREW IT

Made from glass, no brewing parts containing BPA will come into contact with the beverage.
What people like about the Chemex 6-Cup Classic here is its purity but also simplicity.
This glass coffee maker is elegant and pure simplicity. All you need is your coffee, filter, and hot water. The glass in this coffee maker will never release BPAs because it's purely without chemicals.
As long as you have a hot water supply you can have coffee – no electricity required. 
Although this may take longer to set up and achieve a pot of coffee initially, the pay off, as well as being in the taste, is the quick and easy clean up time afterwards.
Just swill it under the tap, and you're done. There are no fiddly bits and pieces to deal with here. 
It is also relatively hard wearing and long lasting – as long as you don't drop it!
Customer comments:
As a coffee maker, this is one that customers report they have bought for themselves then purchased more for friends and family.
When you find a product that you love so much that you want to share with everyone, you know that's a good product.
The Chemex is truly beautiful, and that's what most customers remark upon. They also warn of the fact that you should be careful about storing this on the stove. It's easy to turn on the wrong burner and shatter the glass.
---
Final Thoughts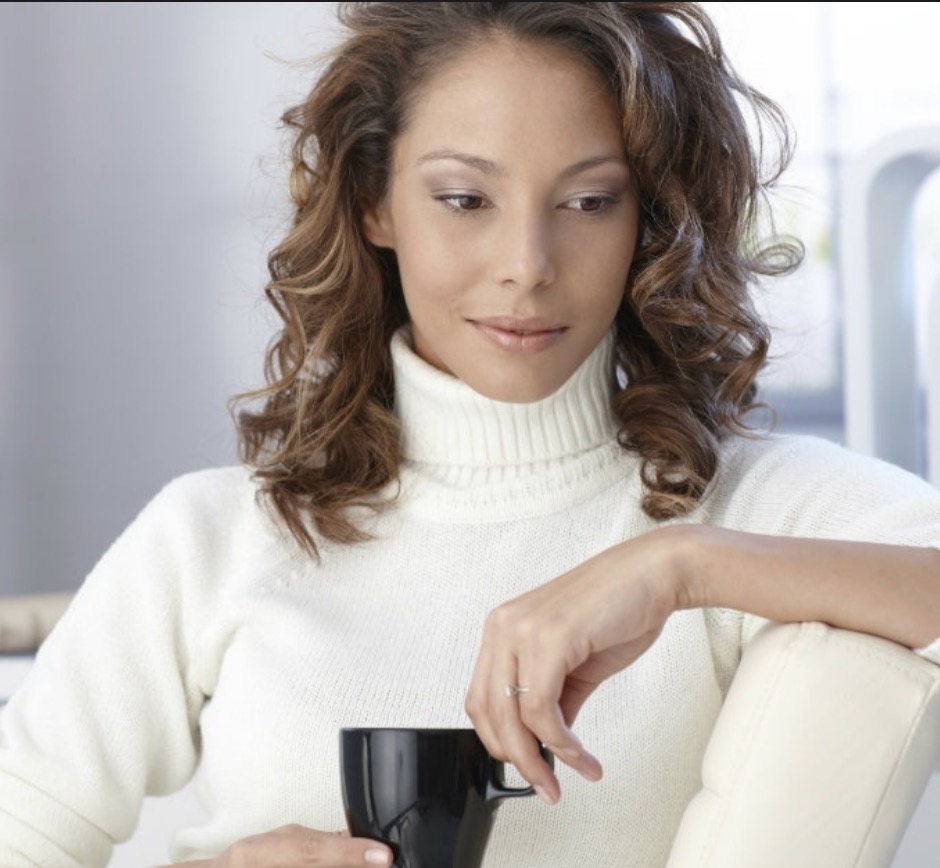 When it comes to BPAs, you might not care because you're within the limits that the FDA says are safe.
Unfortunately, things like this can change from year to year. Like wine or chocolate, you find out that it's bad for you then it's good for you. 
For the most part, chemicals should be avoided whenever possible. Especially those that will alter the chemistry of your own body.
Don't wait until the FDA or government gives you an alert or says they were wrong about BPA levels. 
It's easy to alter just a few things about your coffee production. Instead of using plastic baskets, use a ceramic one.
Also, you might want to consider investing in a stainless steel coffee maker. 
Capresso 565 Infinity Stainless Steel Conical Burr Grinder + Coffee
Nicoletti Coffee Espresso Roast Beans 220Lb (Made In Brooklyn Ny Since 1972)