WHAT IS BPA?
So, now that everyone in North America is running screaming from the evil that is Bisphenol A or hardened plastic parts in food and beverages items, aka BPA, the question is, what is a coffee lover to do?  Give up the beloved bean and live the rest of your days collecting rainwater with only your tongue?
Perhaps not. Fortunately there is a more sensible solution. It is entirely possible to purchase BPA-free coffee makers, plastic free coffee grinders, a coffee maker without plastic or a BPA free drip coffee maker. It just takes a little effort and a bit of legwork… which fortunately you do not have to do as we have helpfully compiled a list of some of the best BPA free coffee makers that are out there.
---
PRESTO 02811 12-CUP STAINLESS STEEL COFFEE MAKER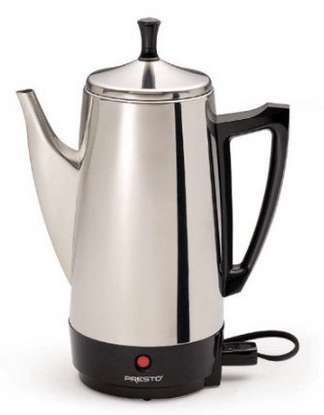 COFFEE MAKER TYPE: PERCOLATOR
MATERIAL: STAINLESS STEEL
OTHER MATERIALS: ALUMINUM
MANUFACTURER: PRESTO
DIMENSIONS: 13.1 X 9.7 X 6.2 INCHES
WEIGHT: 3.5 POUNDS
PRICE: AROUND $38
CAPACITY:  2-12 CUPS
OUR RATING:  4.4 OUT OF FIVE STARS
Often overlooked, the percolator is an excellent choice for those attempting to avoid plastic brew parts. It is possible some of the non brew parts may be plastic (ie the handle etc).
This is a hard wearing, long lasting, stylish item that looks graceful in any kitchen and takes up a lot less space than a lot of other coffee makers will do.
---
BODUM 1308-16 COLUMBIA STAINLESS STEEL THERMAL PRESS POT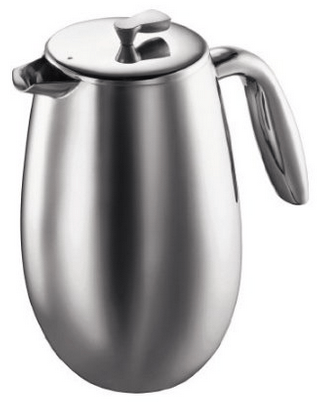 COFFEE MAKER TYPE:  FRENCH PRESS
MATERIAL:  STAINLESS STEEL
OTHER MATERIALS:  SILICONE
PRICE:  $65+
MANUFACTURER:  BODUM
DIMENSIONS:  8.7 X 6.9 X 5.3 INCHES
WEIGHT:  1.9 POUNDS
SHIPPING WEIGHT:  2.3 POUNDS APPROX
CAPACITY:  8 CUP (34 OUNCES)/OTHER SIZES AVAILABLE
DISHWASHER SAFE:  YES
OUR RATING:  4.6 OUT OF FIVE STARS
Most French presses are glass with some inner and outer plastic parts which come into contact with the coffee. This sleek French presses body is all stainless steel. It has some components which are plastic and silicone, but not in direct contact with the beverage.
---
OXO ON 9 CUP COFFEE MAKER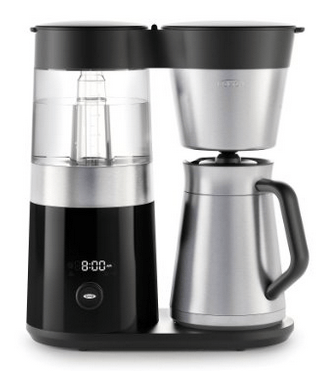 COFFEE MAKER TYPE: SIMPLE COFFEE MAKER
MATERIAL: STAINLESS STEEL
OTHER MATERIALS: SILICONE
PRICE: AROUND $200 (PRICE MAY VARY)
MANUFACTURER: OXO
CAPACITY: 9 CUP
DIMENSIONS: 14.2″ x 6.7″ x 15.2″
WEIGHT:  7.7 POUNDS
PACKAGED WEIGHT:  11.2 POUNDS
OUR RATING:   4.6 OUT OF FIVE STARS
SCAA-approved, this is a stylish and also rather technological looking contraption that is sure to impress just as much for its looks as its tasty coffee. You can choose between brewing 2-4 or 5-9 cups at a time. 
Despite looking scary, it is not as difficult to operate as you may be thinking. The thermal carafe ensures things are kept HOT which is a complaint of many a more "traditional" coffee brewer.
---
KALITA WAVE DRIPPER 185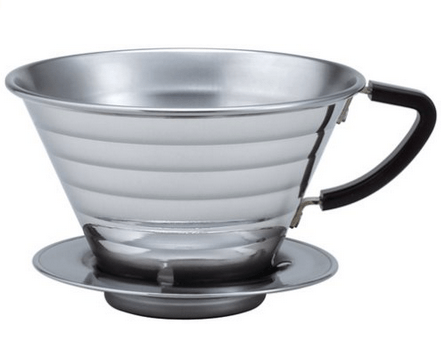 COFFEE MAKER TYPE: SINGLE CUP BREWING
OUR SUGGESTION:  
MATERIAL: STAINLESS STEEL
ALSO AVAILABLE IN: CERAMIC OR GLASS
MANUFACTURER: KALITA (CARITA)
CAPACITY: 3-4 CUPS PER UNIT
DIMENSIONS: 2.59"X4.52"X5.43"
WEIGHT: 0.26 POUNDS
PRICE: AROUND $20 (PRICE MAY VARY)
OUR RATING:  4.6 STARS OUT OF FIVE
There's something refreshingly old school and simple about this elegant Japanese import. It does what it says on the tin, or cup. Available in three different materials, ceramic, glass or stainless steel. This combines the practical with an effective coffee filtering system for stress-free one-cup satisfaction.
This particular version will provide up to four cups. If you just want the smaller, one cup size you could try the smaller 155 filters and wave brewer. Proving once and for all that a decent cup of coffee doesn't have to be a colossal carry on, take up acres of kitchen space or need an engineering degree to master!
---
HARIO VDC-02W V60 CERAMIC COFFEE DRIPPER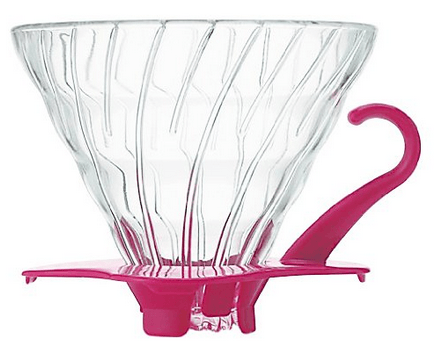 COFFEE MAKER TYPE: SINGLE CUP BREWING
MANUFACTURER: HARIO
MATERIAL: CERAMIC
COLORS:  WHITE, RED
OTHERS AVAILABLE:  GLASS, METAL
CAPACITY:  1-2/1-4/1-6 CUPS
DIMENSIONS:  4.3 X 3.9 X 4.2 INCHES
WEIGHT:  10.4 OUNCES
PRICE:  AROUND $14 (PRICE MAY VARY)
OUR RATING: 4.6 STARS OUT OF FIVE
Once again, when you get the knack of this little thing, single cup masterpieces should be in the bag. It pays to take some time, watch the videos and read some comments to get tips on the best ways to brew with your Hario one cup dripper. 
There is nothing pretentious about these models and they have the added advantage of being small and easily transportable for those wanting good coffee fast, needing only a hot water supply to use.  Beware of imitations!
---
THE ORIGINAL BIALETTI MOKA POT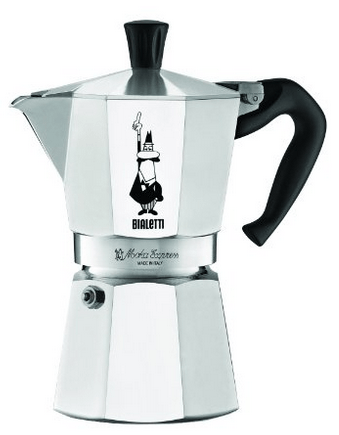 COFFEE MAKER TYPE: MOKA POT
MANUFACTURER: BIALETTI
MATERIAL: ALUMINUM
COLORS: SILVER, BLUE, RED, ORANGE, PURPLE
CAPACITY: 6 CUP/ OTHER SIZES 1,3,9 & 12 CUP
DIMENSIONS: 4 X 4 X 9 INCHES
WEIGHT: 1.8 POUNDS
PRICE: AROUND $30.00 (PRICE MAY VARY)
DISHWASHER SAFE: NO
OUR RATING: 4.5 OUT OF FIVE STARS
There is definitely a knack to using this old fashioned and highly distinctive octagon pot from Italy. Follow the manufacturer's instructions carefully, especially regarding heating and cleaning and you will be knocking out five star coffees of all varieties in no time and with relative ease.  Be warned: do not overheat!
---
6 CUP CLASSIC SERIES COFFEE MAKER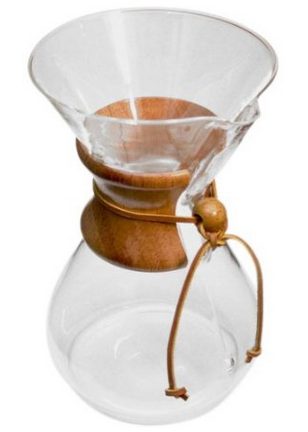 COFFEE MAKER TYPE: CHEMEX
MANUFACTURER: CHEMEX
MATERIAL: GLASS
OTHER MATERIALS: WOOD, LEATHER
CAPACITY: 30 OUNCES/6 CUP OTHER SIZES AVAILABLE 3, 8 &10 CUP
DIMENSIONS:  5 X 5 X 8 INCHES
WEIGHT: 1.7 POUNDS
SHIPPING WEIGHT: 1.9 POUNDS
PRICE: AROUND $47
OUR RATING: 4.7 OUT OF FIVE STARS
RELATED ARTICLE: CHEMEX AND HOW TO BREW IT

Made from glass, no brewing parts containing BPA will come into contact with the beverage. What people like about Chemex is its purity but also simplicity. As long as you have a hot water supply you can have coffee – no electricity required. 
Although this may take longer to set up and achieve a pot of coffee initially, the pay off, as well as being in the taste, is the quick and easy clean up time afterwards. Just swill it under the tap and you're done. There are no fiddly bits and pieces to deal with here.  It is also relatively hard wearing and long lasting – as long as you don't drop it!
Summary
Reviewer
Review Date
Reviewed Item
Best BPA-Free Coffee Maker Round Up 2017
Author Rating