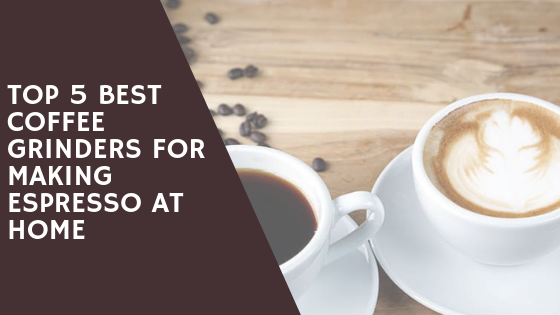 The most important equipment for making top notch espresso at home is not just the espresso machine, as one might assume.
Rather, to make great espresso, you will need a coffee grinder that produces coffee grounds that are uniform in size. What size? Depends on the type of coffee you're brewing.
Please note that even coffee beans of the highest quality, which have undergone a great brewing process, will taste sour and bitter if the coffee grounds are of uneven sizes.
After several hours of research and testing, we have come up with a list of our Top 5 Best Espresso Coffee Grinders for home use.
These are coffee grinders that will stand the test of time. Although they may require you to dig deeper into your pocket, rest assured they'll always give you the results you need.
Let's have a look at these grinders to know exactly what they are capable of.
Table of Contents (Jump To Desired Section)
Espresso Coffee Grinders Buyer's Guide
Finding the best coffee grinder for espresso can be hard, but knowing what you're looking for is going to speed up the process and make it simple & easy.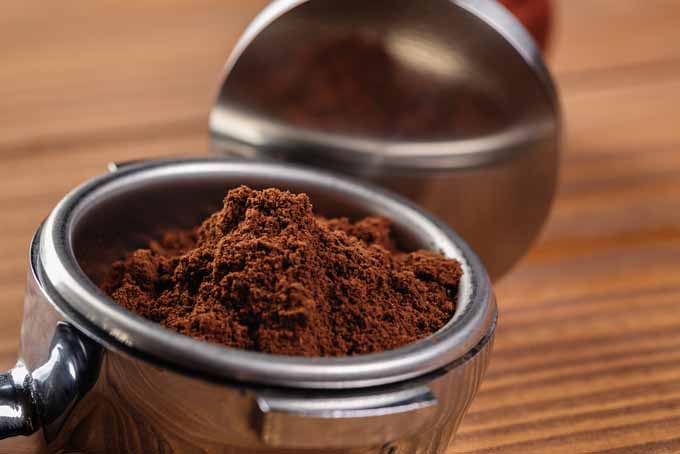 It might sound too good to be true, but you aren't supposed to be an expert…not right away, anyway.
Just learn the basics and know what kind of grinder do you need, in order to get the espresso that will motivate you to get out of bed every morning.
Here are the most important things to pay attention to when choosing your next espresso coffee grinder:
Grinder type (blade or burr)
Burr type (flat or conical)
Burr material (steel or ceramic)
Additional settings & features
What Grinder Type Should You Choose?
The first thing you should be looking into is the grinder type. There are two types which are blade and burr grinders.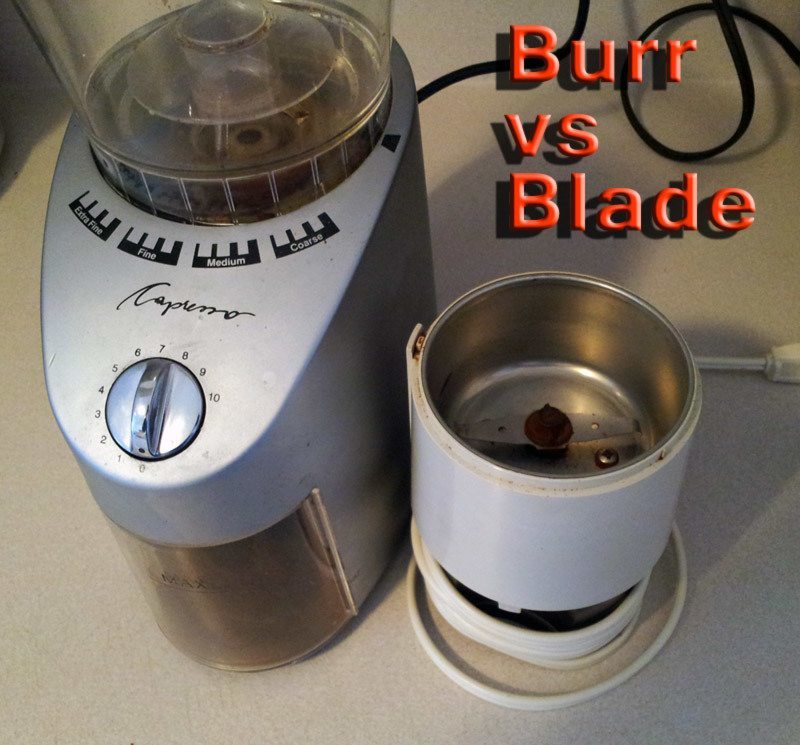 Blade Grinder
Blade grinders, as the name says it, comes with a blade that cuts coffee beans into many parts, and they can produce uneven grind, but you can always control the ground size through timing.
They're relatively cheap grinders and they're easily accessible for newbie brewers.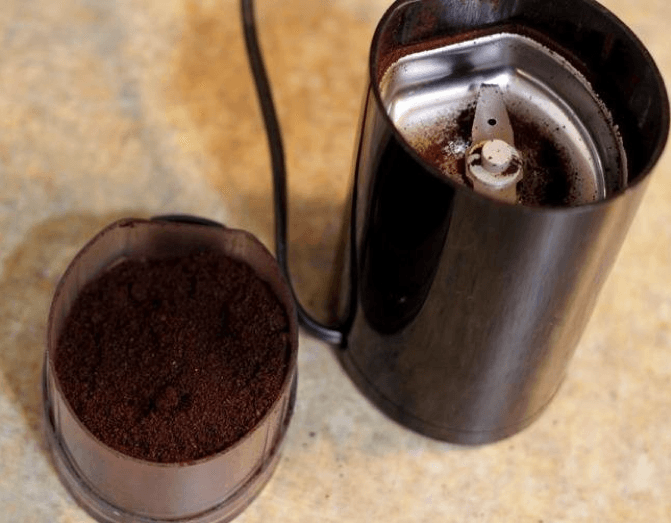 However, the uneven grind isn't suitable for brewers who are into Turkish coffee or espresso.
There's not much to say about blade grinder, as you might have experienced a blade grinder before.
If you're looking for a more quality solution, it's definitely a burr grinder.
Burr grinders are a bit more complex than blade grinders, but down below you can find everything you need to know.
Burr Grinder
Burr grinder comes with two burs that are attached to the bottom which spins as the motor rotates.
Instead of slicing the coffee beans, a burr grinder is crushing the beans.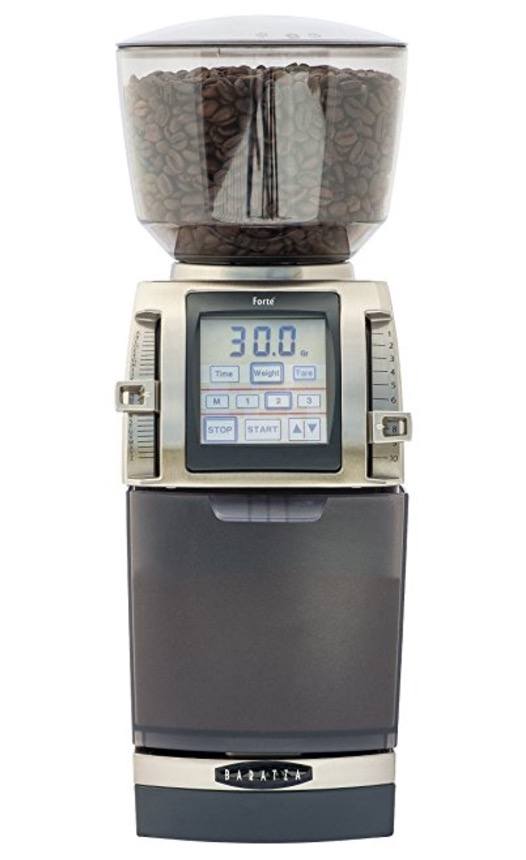 Therefore, the grind is more specific, precise, and consistent, but on the other hand, they come in a bigger size, use more energy, and are more expensive than blade grinders.
Burr Type
If you decide to go with a burr coffee grinder, there's still one more choice to make which is a burr type.
There are flat and conical burrs.

Flat Burr
They're designed to use centrifugal force in order to guide the beans towards the middle where the burr teeth are.
You can easily adjust the grind profile by moving the disks closer together or moving them apart which is fairly simple.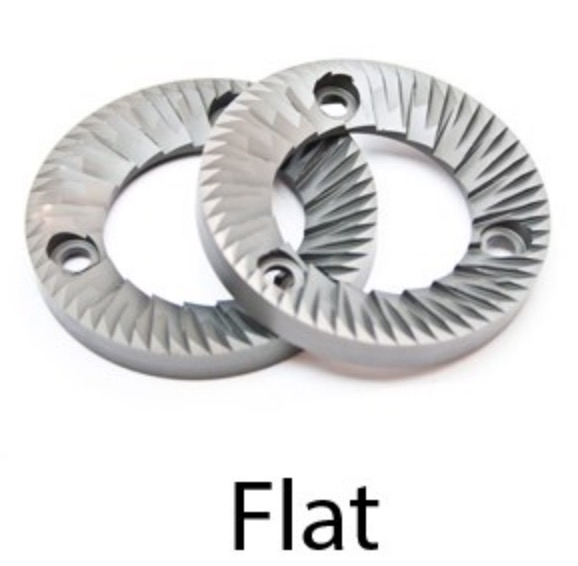 They're really affordable, yet they can handle only up to 600 kg's of coffee and after that, they'll require a replacement.
Conical Burr
Conical burrs are even more precise than flat burrs because they can be adjusted by the degree.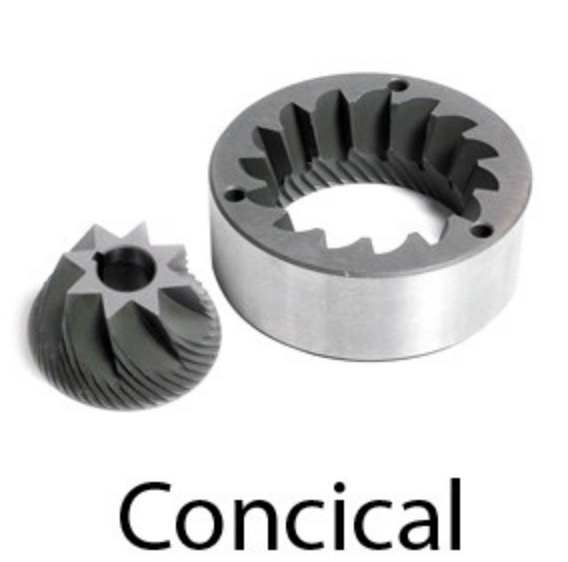 They look very different than flat burr since their teeth are placed in a way to provide a cutting shape of about 60 degrees.
They're a bit more expensive than flat burr, but they can last much longer, grinding up to 1,000 kg before needing a replacement.
Burr Material
Burrs are made from two most common materials which are either a steel or ceramic.
It won't make much difference which material you go for, but it's worth to know that steel heats up and cools down easier than ceramic due to its high thermal conductivity.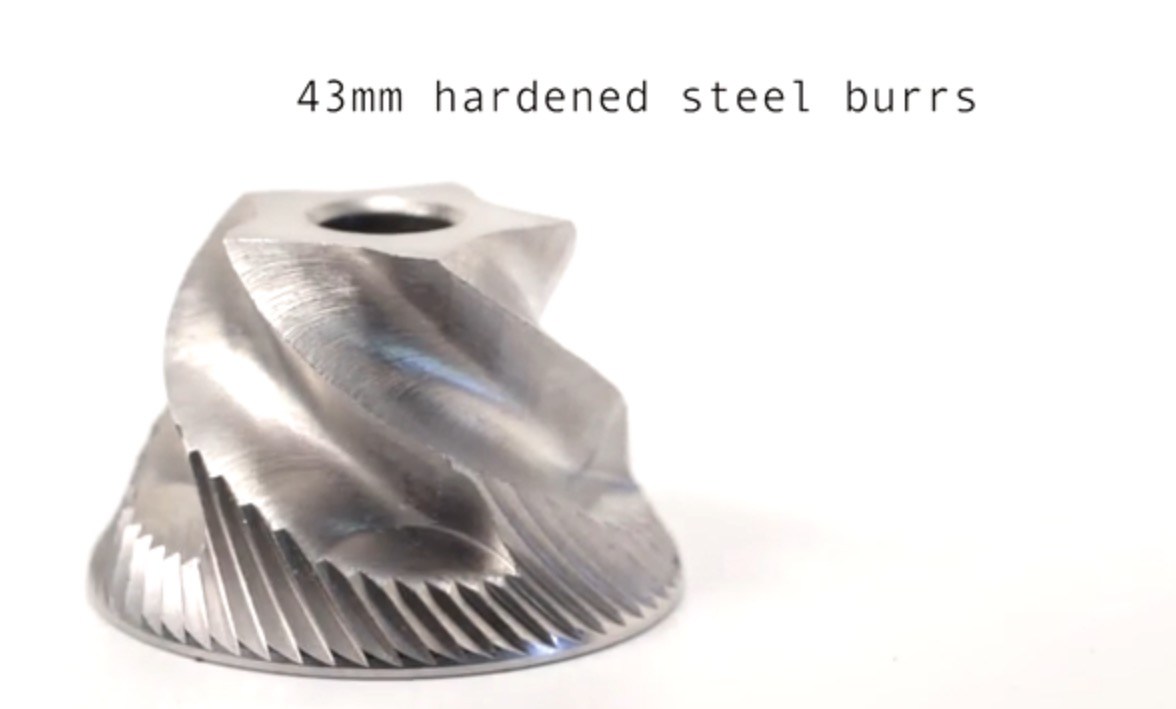 On the other hand, ceramic will take a longer time to heat up and longer time to cool down, since it has lower thermal conductivity.
It's also worth to know that ceramic burrs have a longer lifespan, but also come with a higher price tag.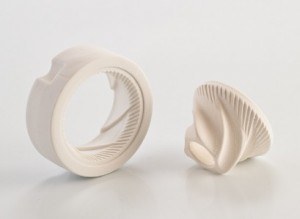 While some prefer steel, it's up to your personal preference. For most people, the material won't make a choice, but it's still worth to know the options.
Additional Grinder Settings & Features
Other than choosing the main burr type and its parts, you'll definitely want to look into size, grind settings, hopper size, and dosing options.
Size – will depend on how much space you have on your kitchen counter.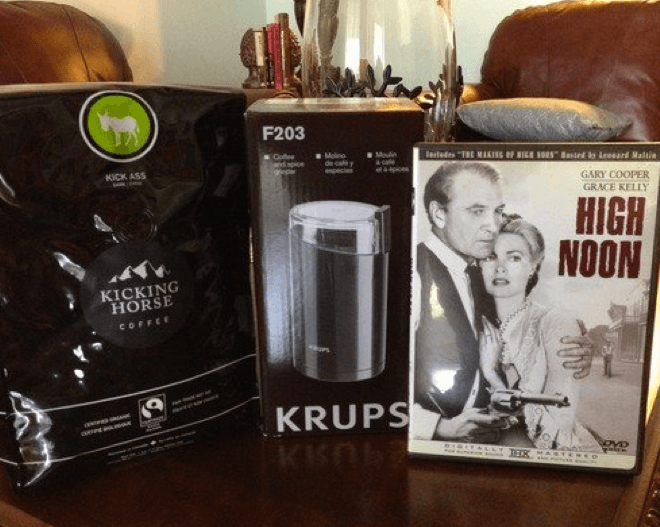 Bigger doesn't always mean better, so don't worry about going for the largest grinder out there.
Grind settings – There are many grind settings which are usually: extra coarse, coarse, medium-coarse, medium, fine, and extra-fine.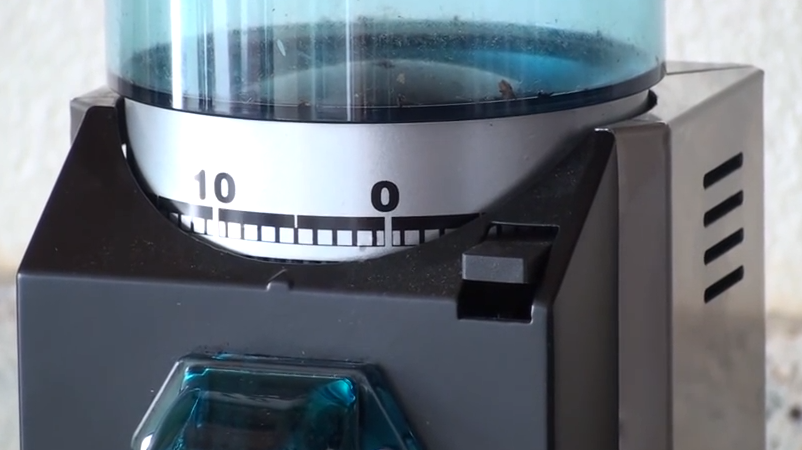 For espresso, you'll want a grinder that definitely has a "fine" grind setting.
Hopper size – The larger the hopper size, the more coffee beans you can store and fewer refills you will need to be doing.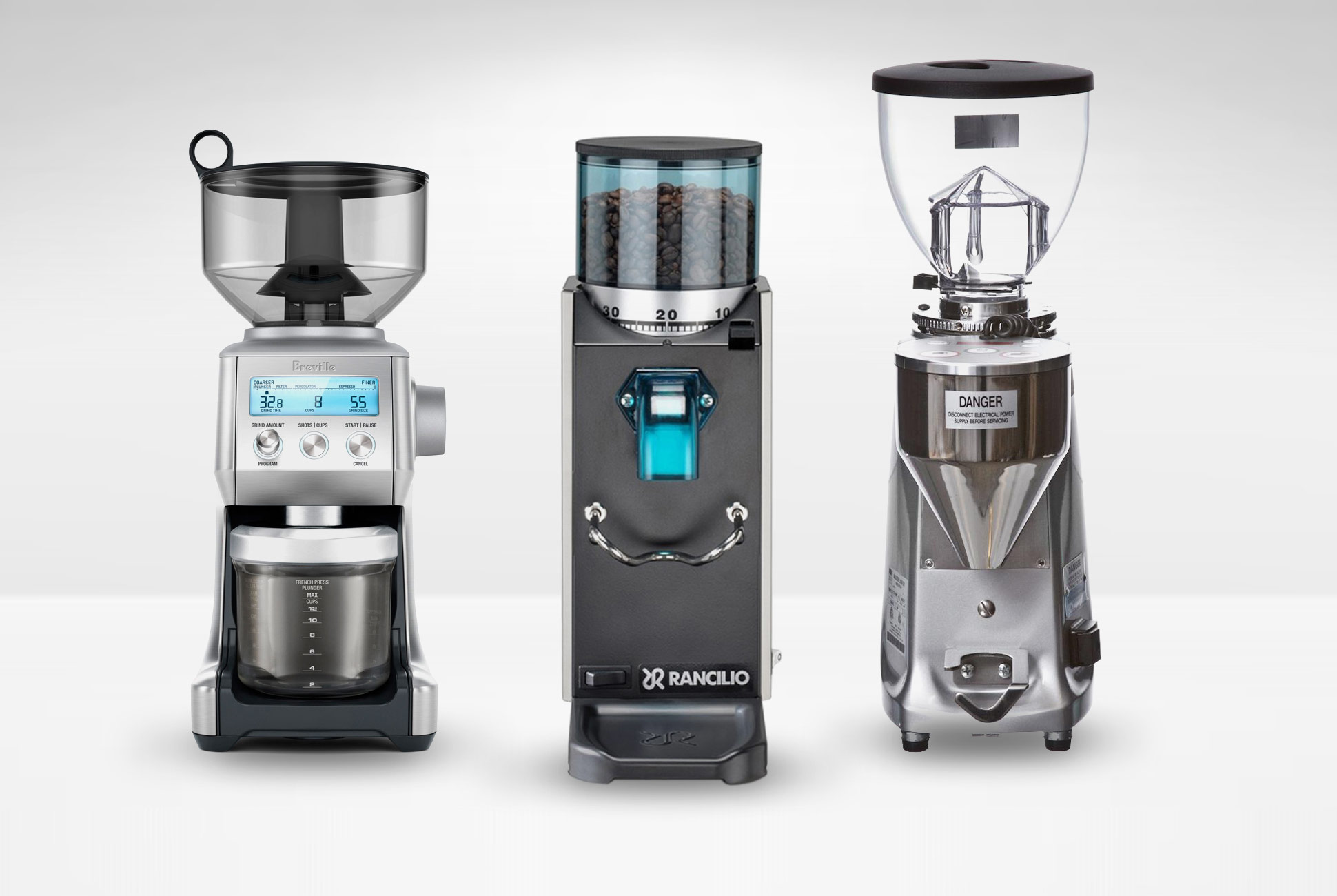 Hopper size also depends on the size of the grinder itself. While it might not be as important for some people, hopper size is still worth looking into.
We'd also recommend you to look into grinding speed, the power, and of course, the price tag.
Just keep in mind that there is no perfect grinder, but if you're looking for the best grinder for espresso, everything you've found in this buyer's guide will help you make a better-informed decision.
Rancilio Rocky
The Rancilio Rocky is definitely a contender for best home grinder, especially when it comes to espresso. If you've used one, you probably know of which we speak.
Certainly, the Rancilio Rocky leads the pack whenever we rank the best coffee grinders in the market.
And we don't expect things to change anytime soon, as the brand has a reputation that has had many an accolade heaped upon it.
This machine is capable of producing all types of grinds, whether coarse or fine, which you will need for that perfect drink.
It is difficult to find a coffee grinder that allows you to effortlessly go from a coarser grind to a finer grind as fast as the Rancilio Rocky does.
Let's talk about the bean hopper for a second. For one, it is very roomy. It has a bean capacity of 0.65lb.
Purchasers of this machine who use it for home use generally don't have any complaints about its size.
The hopper is also easy to clean, despite the fact that it is non-removable. It's easy enough to get in there and mop it out.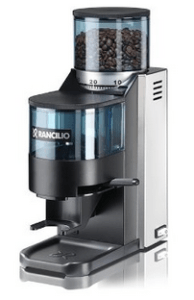 If you maintain this machine well—something that is not difficult to do because of its high quality— you might as well plan to have it around for at least 10 years.
Some users have reported this, or longer, but again, it depends on how careful you are with it.
The Rancilio Rocky has a two-year warranty, so if something goes wrong, it will be handled very quickly, and you'll go back to business as usual.
To sum things up, the Rancilio Rocky is without a doubt the best coffee grinder there is, considering its fantastic features as well as its stylish design.
It comes in both a doser and doserless version, as shown in the video below.
Baratza Vario 886
It's no surprise that the Baratza Vario (model 886) appears in our list of top 5 espresso grinders.
It has long been known to be a top quality model, and a favourite of home users everywhere.
This model takes the place of the also-popular Vario 885, with some noticeable upgrades.
Designed with Mahlkonig ceramic burrs (54mm), you can be sure you'll get consistent grinds each time you are preparing your shots, as these burrs are powerful and precise.
Its high-torque, belt-driven DC motor ensures the grinding process is cool at all times.
This is important in the flavour of the beans as you don't ever want to overheat or – God forbid – burn them!
Another feature that adds to the slow and cool grind of the Baratza Vario is the fact that it has large ceramic burrs, that we just mentioned.
Big burrs and a strong machine means cool grinding and that's good for your espresso.
Overall, the sturdy build of this machine means it will still be in perfect condition for many years to come.
This coffee grinder incorporates a total of 230 grind settings.
If this is not enough for you (maybe you want a stepless), at least you know you have quite a bit of leeway as you adjust your grind settings.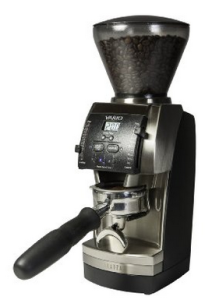 You'll be assured of the consistency of your grinds every single time with the Baratza Vario 886.
As we like to say, grind size is something that's very important whenever you are grinding for espresso.
The Baratza Vario 886 is an all-round machine thanks to its flexibility and micro-adjusting capabilities.
Consider yourself lucky whether you are looking to prepare French press, drip coffee, or espresso.
This machine, although it is meant for home use generally, could be used in a small café no problem.
Check out this video review of the Baratza Vario 886 by Crew Review.
They tend to go into great detail and this video will have all you need to know that we may not have mentioned.
KitchenAid Pro Line
Due to its not so friendly price tag, the KitchenAid Pro line has to prove that it's worth your hard-earned cash. And guess what? It does so perfectly.
This grinder itself has is made of steel, an upgrade from plastic. That said, plastic is found on this grinder, although not much, as well as glass.
It's a beautiful model, and has a very unique look and shape to it, that will stand out in any kitchen, regardless of how fancy your toaster might be.
Both the carafe and hopper come with plenty of space. What's more, they are made of glass, thus adding to the beauty of this superb coffee grinder.
This grinder does the assigned job well indeed, whether you use it at home or for commercial purposes, or a cup of coffee or espresso.
For this reason, the KitchenAid Pro line is very popular among its users and reviews are found to be favourable.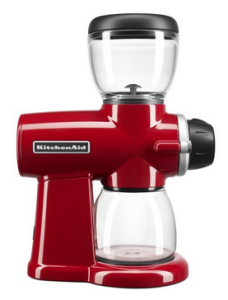 This machine comes with 15 grind settings. You might agree that this is not a big number, but considering its ease of use, that might not be such a big deal.
Still, it doesn't compare to a stepless machine or one with micro-adjustments like the last one we mentioned.
Lack of grind settings aside, the KitchenAid Pro Line grinder grinds coffee beans extremely well, and is on the whole very consistent.
One interesting thing about the KitchenAid Pro Line is that the burrs and motor have been kept separate.
Holes on the metal housing function as the machine's cooling mechanism. The result is flavourful, cooler coffee grounds.
If you are looking for a machine with a sturdy design, consistent grinds, and more importantly, one that will last for a long period of time, the KitchenAid Pro Line is a great choice.
Although, it's a bit expensive due to its fancy appearance and the amount of solid steel, what you get from it espresso-wise will impress you, we think.
Mazzer Mini
The Mazzer Mini made our list, for many reasons, not the least of which is the name Mazzer and how they are a brand that is synonymous with great coffee.
You may or may not know how it is with those Italian coffee manufacturers – they're seriously into coffee!
One big reason we love this grinder is that it comes with Swedish hardened steel burrs that offer a meticulous grind adjustment.
You might say, what's the big deal? Are Swedish burrs better than other burrs? Our answer – do not question the Swedes and their burrs.
At any rate, with these special burrs, you are able to select a perfect granularity for your machine which can lead to an idea cup of coffee or espresso.
Not only can it, it has, and it will again. You can either be drinking it or you can drink the lesser-quality beverages due to inconsistent granularity. Your choice.
The Mazzer Mini also incorporates an adjustable porta-filter doser, which enables you to tweak your grind according to your preference.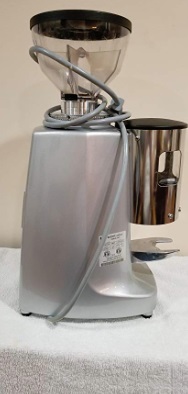 If you consider all the factors, from solid build, to precision grinding, and brand name, then Mazzer Mini is one of the best coffee grinders you can buy.
It costs a bit more, but it is what you would call a "pro" grinder, and they're not often seen in homes as they ride the line between dazzling home unit and fair-sized commercial coffee grinder for your local café or restaurant.
If you do get one for your home, you not only will be treated to great espresso, but people will be remarking on this burly grinding and wondering just how coffee-crazy you are.
Baratza Virtuoso
As you can see, this coffee grinder is slightly rounded at the edges, and so is the hopper. This gives the Virtuoso a shape that is quite unique, and very organic-looking.
The Baratza Virtuoso is built with a mixture of black plastic and steel, thus making it a little bit less expensive, compared to the other coffee grinders on our list.
We've discussed the more heavy-set metal grinders so far like the Mazzer or KitchenAid, and this one is not like that.
Lighter, and a little less intimidating, we still think this is a beautiful model.
Nonetheless, you must agree that appearance is not everything in a home appliance.
Especially with grinders, the main purpose is to grind your beans evenly, without burning them, and the size you want. The Virtuoso delivers on these fronts in spades.
Apart from its design attributes, the Baratza Virtuoso is well-built, easy to use, and easy to clean.
It is also one of the more economically sized grinders on this list, so you can easily find a spot for it if you have a decent amount of counter top space.
Going by the positive customer reviews this product has received time and again, we can say it's worth its asking price.
The hopper is a goodly size, and, in terms of being easy to use, this might be the simplest to use grinder we've talked about so far.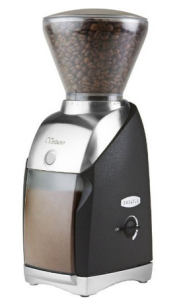 Here is a video by Crew Review going over some of the more finicky details of this grinder.
We stand behind the choices we've made for the 5 best grinders for making espresso at home.
They will grind your beans to perfection for the style of coffee that you want to drink.
You want to be sure that the grinder you choose fits your lifestyle as well as the coffee you want.
Rushing your morning coffee can set you on a path of annoyance all day.
It's best to start your morning with the best grinder to produce the best grind for the best coffee you could possibly have.
That's how you start your morning off right.