The most important equipment for making espresso at home is a coffee grinder that produces coffee grounds that are uniform in size.
Please note that even coffee beans of the highest quality, which have undergone a great brewing process, will taste sour and bitter if the coffee grounds are of uneven sizes.
After several hours of research and testing, we have come up with a list of our Top 5 Best Espresso Grinders for home use.
These are coffee grinders that will stand the test of time. Although they may require you to dig deeper into your pocket, rest assured they'll always give you the results you need.
Let's have a look at these grinders to know exactly what they are capable of.
---
Rancilio Rocky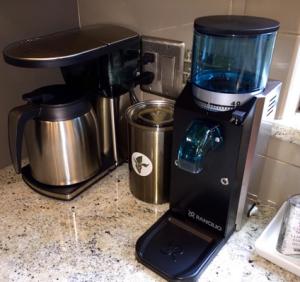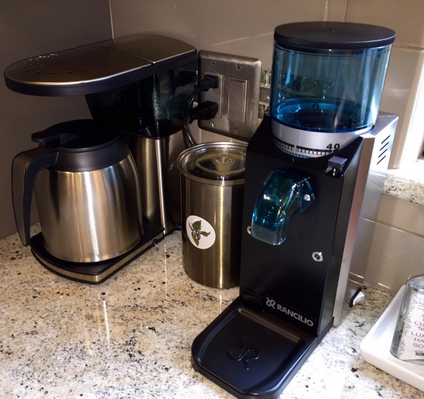 This is by far the best coffee grinder money can buy, at least according to us as well as several other users.
And if you are highly knowledgeable about almost everything concerning coffee grinding, you will agree with us when we place this baby at the top of our list.
Certainly, the Rancilio Rocky leads the pack whenever we rank the best coffee grinders in the market. And we don't expect things to change anytime soon.
This machine is capable of producing all types of grinds, whether coarse of fine, you need for a perfect drink. It is difficult to find a coffee grinder that allows you to effortlessly go from a coarser grind to a finer grind as fast as the Rancilio Rocky does.
Let's talk about the bean hopper for a second. For one, it is very roomy. It has a bean capacity of 0.65lb. The hopper is also easy to clean, despite the fact that it is non-removable. If you maintain this machine well—something that is not difficult to do because of its high quality— you might as well have it around for at least 10 years.
The Rancilio Rocky has a two-year warranty, so if something goes wrong, it will be handled very quickly, and you'll go back to business as usual.
To sum things up, the Rancilio Rocky is without a doubt the best coffee grinder there is, considering its fantastic features as well as its stylish design.  It comes in both a doser and doserless version, as shown in the video below.
Read our full review of the Rancilio Rocky
---
Baratza Vario 886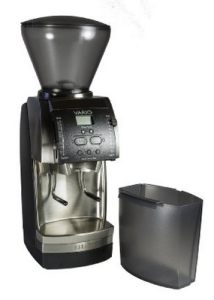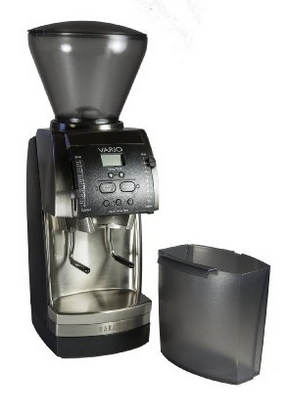 It's no surprise that the Baratza Vario (model 886) comes second in our list of top 5 espresso grinders. Designed with Mahlkonig ceramic burrs (54mm), you can be sure you'll get consistent grinds each time you are preparing your shots.
It's high-torque, belt-driven DC motor ensures the grinding process is cool at all times. Another feature that adds to the slow and cool grind of the Baratza Vario is the fact that it has large ceramic burrs. Overall, the sturdy build of this machine means it will still be in perfect condition for many years to come.
This coffee grinder incorporates a total of 230 grind settings. If this is not enough for you, then we don't know what is. You'll be assured of the consistency of your grinds every single time. Something that's very important whenever you are grinding for espresso.
The Baratza Vario 886 is an all-round machine thanks to its flexibility and micro-adjusting capability. Consider yourself sorted whether you are looking to prepare French press, drip coffee, or espresso.
Check out this video review of the Baratza Vario 886:
Read our full review of the Baratza Vario 886
---
KitchenAid Pro Line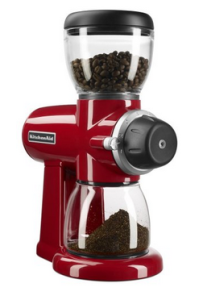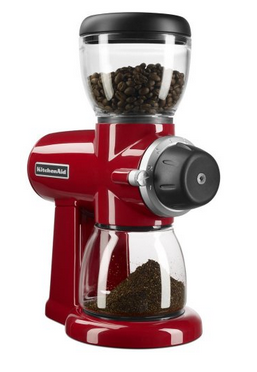 Due to its not so friendly price tag, the KitchenAid Pro line has to prove that it's worth your hard-earned cash. And guess what? It does so perfectly.
This grinder has is made of black steel, an upgrade from plastic. Let's be honest here, steel is far much better than plastic, regardless of the durability of the plastic.
Both the carafe and hopper come with plenty of space. What's more, they are made of glass, thus adding to the beauty of this superb coffee grinder. This grinder does the job perfectly, whether you use it at home or for commercial purposes. For this reason, the KitchenAid Pro line is very popular among its users.
This machine comes with 15 grind settings. You must agree that this is not a big number, but considering its awesome functionality, there is not much to complain about. It grinds coffee beans extremely well; in fact, the grinds are very consistent.
One interesting thing about the KitchenAid Pro Line is that the burrs and motor have been kept separate. Holes on the metal housing function as the machine's cooling mechanism. The result is flavorful, cooler coffee grounds.
If you are looking for a machine with a sturdy design, consistent grinds, and more importantly, one that will last for a long period of time, the KitchenAid Pro Line is you best choice. Although, it's a bit expensive, what you get from it will blow you away.
https://www.youtube.com/watch?v=dmYjImtDSrU
Read our full KitchenAid Pro Line grinder review
---
Mazzer Mini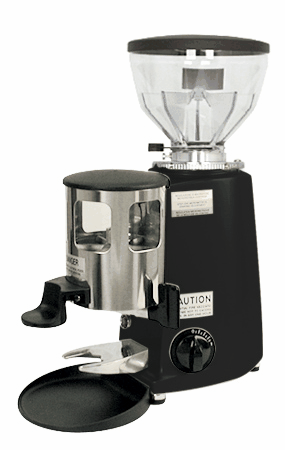 The Mazzer Mini comes next on our list, because of many reasons.
One big reason is that it comes with Swedish hardened steel burrs that offer a steeples grind adjustment. For this reason specifically, you are able to select a perfect granularity for your machine which can lead to an idea cup of coffee or espresso.
The Mazzer Mini also incorporates an adjustable porta-filter doser, which enables you to tweak your grind according to your preference.
If you rarely drip your caffeine, the Mazzer Mini is one of the best coffee grinders you can buy.  It costs a bit more, but it is what you would call a "pro" grinder, and they're not often seen in homes as they ride the line between dazzling home unit and fair-sized commercial coffee grinder for your local café or restaurant.
Read our full review of the Mazzer Mini
---
Baratza Virtuoso
As per the looks, this coffee grinder is rounded, and so is the hopper. The Baratza Virtuoso is built with a mixture of black plastic and steel, thus making it a little bit cheaper, compared to the other coffee grinders on our list.
But if you need a lot of metal in a grinder, you might as well look elsewhere; though you will have to spend more. Nonetheless, you will agree that appearance is not the most important thing on a grinder.
Apart from its great design, the Baratza Virtuoso is strong, easy to use, and easy to clean. It produces consistent grinds too. Going by the positive customer reviews this product has received, we can say it's worth its price tag. But if you need a more advanced grinder, a machine with spectacular features, check out the grinders at the top of this list.
It is worthwhile to remember that a coffee grinder is a machine you can't afford to overlook when it comes to making good espresso at home. You risk getting lousy, bitter-tasting shots if you choose to purchase any other machine that's not necessarily a grinder. Most of such machines require you to buy prepackaged or pre-ground coffee.
Read our full review of the Baratza Virtuoso
Summary
Reviewer
Review Date
Reviewed Item
Top 5 Best Coffee Grinders For Making Espresso At Home
Author Rating