We've reviewed some of the best espresso machines available on the market, but this one is truly special.
The DeLonghi ESAM3300 Magnifica is steam-powered and has a power output of 1150 watts. It's stylish, beautiful and durable.
Patented Cappuccino System
The patented cappuccino system rotates about an angle of 180 degrees; you can therefore place a milk container of any size on the slot.
You can also adjust the coffee spigot to suit cups of different sizes, including the espresso and ristretto cups as well as the large mug.
Integrated Burr Grinder
DeLonghi ESAM3300 Magnifica comes with an integrated burr grinder that is quiet and saves a lot of space.
The burr grinder grinds beans automatically.With this machine, it's quite easy to customize your espresso because you can set your preferred grinding level. The unit allows you to use ground coffee too.
To get espresso with an amazing taste, DeLonghi recommends that you use illycaffe. With illy, you are assured of the best taste cup after cup. It is rich, balanced, smooth and never bitter.
The front panel of the machine offers easy-to-use controls for the cappuccino and on/off switch system.
Additionally, the easily accessible controls enable you to adjust the quantity of coffee and water to suit your preferred taste, from weak or strong to long or short.
Beans-to-brew system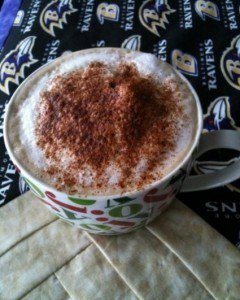 Many people have asked us the secret of making high-quality espresso. This is what we have told them, and this is what we are going to tell you too: using freshly ground coffee beans!
When you use freshly ground coffee beans you get espresso with a fantastic taste and aroma.
This machine allows you to prepare coffee with a superb aroma, thanks to the beans to brew system.
No traces remain in the machine since the coffee is freshly ground. The Magnifica is, without a doubt, the only super-automatic espresso machine that produces the freshest results.
Clean Up
Since the stainless-steel double boiler is removable, it's very easy to clean the interior of this machine.
Also, since it's a super-automatic machine, it comes with auto programs for rinse and decalcification. Clean up is, therefore, something you need not worry about with this machine.
It is advisable to clean the machine regularly for two important reasons: to reduce the need for service and to maintain the best flavor.
The Brewing Unit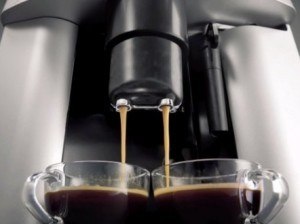 This machine features one of the smallest, if not the smallest, removable brewing systems.
Thanks to DeLonghi's compact patented boiler, the Magnifica features an excellent heat distribution system that guarantees high-quality espresso at the perfect temperature every single time.
Cleaning this machine's interior is super easy because of the incorporated removable boiler.
You'll manage to clean even areas that are not easy to reach, without using harsh detergents.
And since regular maintenance determines the lifespan of a machine, you can expect the Magnifica to last for ages.
The machine also features two stainless steel boilers that provide an instant reheat function and excellent heat distribution.
Performance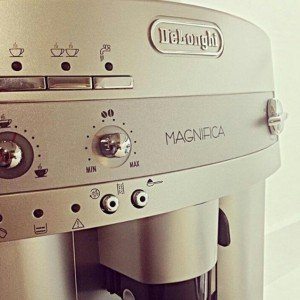 Being a super-automatic espresso machine, you always expect the best tasting espresso with this baby.
For any task or activity, the final product usually depends on two major factors: the right process and the right ingredients.
For this reason, to achieve the best results with this baby, we recommend that you use the best coffee beans you can get your hands on.
If you use inferior, poor-quality coffee beans, don't expect anything more than an inferior taste.
And about using the right process—and technique—the first step is to go through the instruction manual carefully.
If you encounter any problems, feel free to contact us, or conduct a quick search on the web for tutorials on the same.
But, if you have experience in using other espresso/coffee machines you'll get the hang of this one within no time.
This DeLonghi espresso/coffee machine is capable of preparing coffee, espresso, cappuccino, latte drinks and all other espresso-based drinks.
Feel free to experiment with a variety of possibilities. Make use of a good number of recipes.
A quick glance at this DeLonghi coffee machine may give you a picture that it's a complex machine.
That's far from it. You don't need to be an expert to operate this baby. The front panel's controls are easily accessible, easy-to-use and programmable.
The controls we are talking about here are ones for adjusting the quantity of coffee, water and milk as well as the cappuccino system.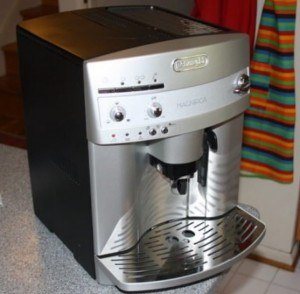 Pros
Durable
Easy to use
Great for espresso and coffee (as well as other espresso based drinks)
Incredible features that make it convenient, fast and easy to use
Cons
The Magnifica can be a bit noisy, especially during the first few seconds of operation
Bottom line
The DeLonghi ESAM3300 Magnifica Super-Automatic Espresso Machine is certainly one of a kind. It's not easy to find a super-automatic espresso machine that matches its functionality.
Yes, it is small, but it makes up for that by producing espresso with an amazing taste and aroma each and every time.