Last Updated on
By: Know Your Grinder
QUICK STATS
PRODUCT DIMENSIONS: 20 x 14 x 14″
ACTUAL WEIGHT:  9.1 pounds
SHIPPING WEIGHT: 10.8 pounds
BURR GRINDER: YES
# OF SETTINGS: 34
BEAN HOPPER: 10 OZ
WARRANTY: ONE YEAR
MANUFACTURER: GAGGIA
MODEL NO: 8002 MDF
QUIET OPERATION: YES
LONGEVITY:  LIFESPAN IS EXCELLENT
COARSE TO FINE GRIND RANGE: YES
MAIN MATERIAL: PLASTIC
COLOR: BLACK
OUR RATING: 4.5 / 5 STARS
It should not need pointing out why burr grinders are the coffee bean grinder of choice among baristas and coffee lovers alike, but just in case it does, here's why.
Blade coffee grinders mangle more than they grind.  The beans are repeatedly hit by rotating blades at a high speed (a literal death by a thousand cuts). 
As a result, there is no consistency to the resulting grind.  There will be lumps, bumps and clumps, which, as you may know, does not help our brew whether we are going the coffee or espresso route. 
Consistency is our top priority here, and only burr grinders are designed to achieve this.

So, you have read various reviews online and you're wondering which model you should go for. 
Hmm…its a rather risky proposition, as burr grinders can run anywhere from $20, all the way up to thousands of dollars (commercial models).  You want to make sure that you get a little something called R.O.I.

Enter the Gaggia MDF Burr Coffee Grinder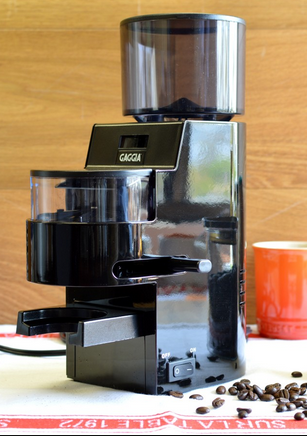 The first thing we want to say about the Gaggia MDF here is that this is a burr grinder with an attached dosing chamber, making this a "doser" not a "doserless" grinder.

Among coffee fans, to dose or not to dose is somewhat of a big deal, since you are choosing to either dole out your grinds in measured quantities, or not. 
Doser grinders tend to go hand in hand with making an espresso, since this is what dosing helps with the most. 
Here's a quick video on the subject of dosing and non-dosing grinders, featuring two Rancilio Rocky grinders and the Gaggia MDF.
To sum up this video briefly, what we see here is that the Gaggia MDF is comparable with the Rocky grinders in many ways, and all three grinders – the Rocky doser version, the Rocky doserless version, and the Gaggia MDF – are each a quality grinder in its own right. 
What we like about the Gaggia MDF, judging from this video provided by Whole Latte Love, is that even though the Gaggia MDF usually sells for less than the Rocky (either version), it easily keeps up in terms of grind quality and overall hardware quality. 
Gaggia MDF – Espresso Burr Grinder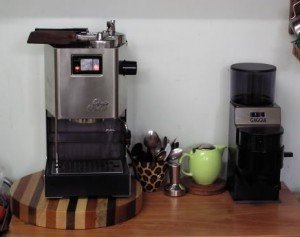 We always say that the quality of your coffee grinder, in terms of overall importance to the coffee-making process, is more important than your actual coffee maker, and many a barista would agree with this statement. 
Why?  Because it is at this stage where you truly can make or break the quality of your cup of coffee or espresso shot. 
Grind poorly, and your coffee will definitely suffer and hence YOU shall suffer as the drinker of said coffee!  Oh the humanity…

Luckily, with the Gaggia MDF, it will quite happily sit beside your 5-star all-singing, all-dancing espresso maker (like the Gaggia Classic pictured above) to produce the best results possible. 
For the performance of the grinder, this one scores a full five out of five.  However, there are other considerations as well…

Bestselling Coffee Grinders