As coffee fans and as people who love to discover new and better ways to prepare our favorite hot beverage – which is of course coffee – today we're here to look at the Aeropress Coffee & Espresso Maker which comes with a zippered nylon tote bag (if you choose that combo), and which came in the mail recently after we ordered it on Amazon.  A day or two later, voila!  – there it was.
For me and my family of coffee lovers, the Aeropress turned out to be an excellent coffee maker due to its uber simplicity; and the resultant coffee was delicious and prepared in no time.  Having no prior experience with it until a few weeks ago, it took me some time to get used to it and become a full-fledged Aeropress fan.
The Way It Works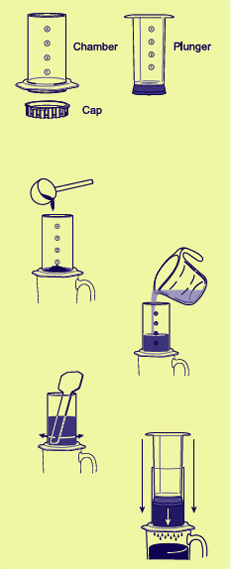 I don't want to bore you with details, but here I go anyway!  The way the Aeropress works is that it prepares the coffee by using the ideal water temperature and gentle air pressure.  
A lot of people I know look at the Aeropress with a sort of "That's your coffee maker?" look on their face (some less kind people even vocalize that sentiment), but within a minute when I'm serving them a rich flavored espresso with lower acidity and without bitterness, they tend to change their tune.
This was especially important for me that it made great-tasting black coffee, because although I drink my coffee with almost no sugar, I don't like when I can detect that bitter taste.  What can I say, I'm a complainer!  
This is actually what made me start looking for new ways to brew at home in the first place – because my local coffee shops were not cutting it. 
The Aeropress is big enough to hold 1 to 4 cups of coffee or espresso, which will be enough for 1 or 2 mugs.
Here's a quick video showing how to make the perfect cup of Aeropress coffee.
Aero(press)dynamics
Fill the chamber (the part with the printed numbers) with water (we filled it up to number two for two shots of espresso) then put the water in a cup. Take the filter holder and place a filter on it (be careful as these are extremely thin). Then screw the filter holder on the chamber bottom and get a glass that will be the base for your Aeropress chamber.
Forgive me if I find this process rather coital.  The plunger has a rubber bottom that sticks firmly on the plastic walls of the chamber, so when you try to lift it up or press it down it creates strong pressure and rubbing.
Use the scoop of either store bought pre-ground stuff, or even better, your own beans you've ground yourself.  We have our own grinder, and its great for the purpose of Aeropress.  It is a burr mill so you can grind straight to the Aeropress, just as the Aeropress can go straight to the cup.  The funnel is wide enough so you can put the coffee there without actually spilling any.
Aeropress With Nylon Zippered Tote Bag – Goodies Galore!
The first thing we got out of the box was a stirrer and a coffee scoop, both black and plastic.  Next came the funnel, then the actual Aeropress chamber and the plunger (they were packaged together), a plastic filter holder and a bag of filters (there are 350 which is enough to last years) that according to the company can be re-used. 
There was also a good quality tote bag that came with this collection of goodies, which is when I realized that this package is pretty much a coffee-lover's dream gift.  The tote bag makes this package something which the coffee lover on the go will certainly appreciate, as it is well made and looks sharp to boot.  This Christmas, look out cousin Paul, because I know what I'm getting you now (Paul is a coffee freak who loves to go camping).  Anyway, we decided not to re-use them because we prefer buying new ones (they don't cost more than $3), but you can re-use them if you want.
Overall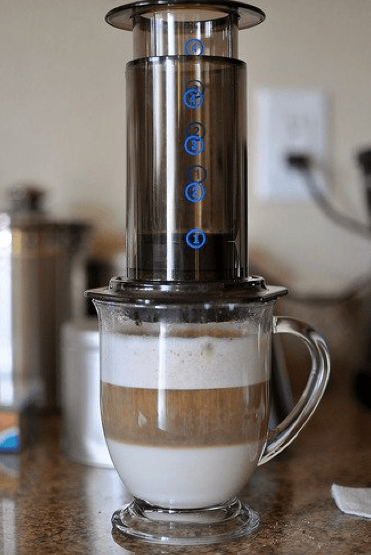 To wrap up – we're impressed, not only by how rich and smooth coffee flavor we got, but also that this thing does an amazing and fast work. You don't have to wait for anything (brewing and wasting power) – all you need is a couple of minutes and the espresso is ready.  I actually really enjoy making lattes for my son with this, who is kind of a latte nut (but I love him).
For a price that is usually lower than $30, I think this is an amazing coffee and espresso maker. It doesn't take a lot of space and for sure has only pros and we're glad to recommend it.  Its great for making espresso, and other coffee-based beverages like lattes.  
Also, the extras that come with are great – the nylon totebag and the extra filters are much appreciated at our house.

Summary
Reviewer
Review Date
Reviewed Item
AeroPress With Nylon Tote Bag Combo Review
Author Rating