Last Updated on
By: Know Your Grinder
One of those ways is by using the Aeropress coffee maker, which, in itself, allows you to make coffee in a variety of ways.
Today, I'm here to review Aeropress Coffee & Espresso Maker, but not just the regular package that you get when you buy an Aeropress.  This deal is special.  
Yes, this is the same Aeropress coffee maker, but this one….<drumroll> comes with a zippered nylon tote bag, which I recently ordered online, and received soon after.
I wanted to get a new Aeropress, not really because I needed one because there was nothing wrong with my old one, but I had given my Aeropress to my brother, who is a bitter, bitter man, and thinks the Aeropress is a stupid invention.  To prove him wrong, I flat out gave him mine.   
So, I used that as an excuse to buy the one with the tote bag.  My husband and I travel a lot, not to mention go camping, and so we just felt like splurging and getting another one (they're not expensive) – this time with a tote bag.  Sounds like a plan, right?
A day or two later, voila!  – there it was, my new Aeropress along with some goodies.
For me and my hubby, the Aeropress has always been an excellent coffee maker due to its uber simplicity; and the resultant coffee was delicious and prepared in no time.  It even makes a decent faux-espresso, which I love.
---
The Way Aeropress Works (If You've Never Used One)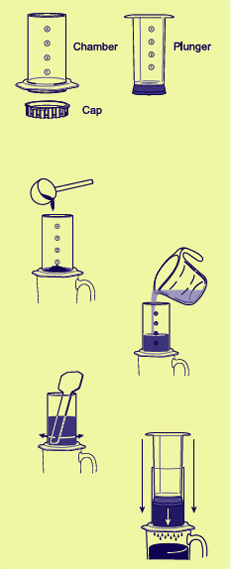 I don't want to bore you with details, but here I go anyway!  The way the Aeropress works is that it prepares the coffee by using the ideal temperature for the water and gentle air pressure.  
A lot of people I know look at the Aeropress with a sort of "That's your coffee maker?" look on their face (some less kind people even vocalize that sentiment).
That said, within a minute when I'm serving them a rich flavored espresso-style coffee with lower acidity and without bitterness, they tend to change their tune.
Best Coffee Grinders for Making Espresso At Home
Here are some great espresso grinders for home according to our editors!
This was especially important for me that it made great-tasting black coffee, because although I drink my coffee with no sugar (usually), I don't like when I can detect that bitter taste of bad coffee. What can I say, I'm a complainer sometimes, but only when something legitimately bothers me!  
In fact, this consistently bad coffee (made with other coffee makers that shall remain nameless) is actually what made me start looking for new ways to brew at home in the first place – because my machine was crap, and local coffee shops with their teenage baristas were not cutting it. 
The Aeropress is big enough to hold 1 to 4 cups of coffee or espresso, which will be enough for 1 or 2 mugs.
Here's a quick video showing how to make the perfect cup of Aeropress coffee.
---
Aero(press)dynamics – How to make it
If the above video didn't tell you all you need to know, here's the instructions.
Fill the chamber (the part with the printed numbers) with water (we filled it up to number two for two shots of espresso) then put the water in a cup.
Take the filter holder and place a filter on it (be careful as these are extremely thin).
Then screw the filter holder on the chamber bottom and get a glass that will be the base for your Aeropress chamber.
Forgive me if I find this process rather coital. 🙂
The plunger has a rubber bottom that sticks firmly on the plastic walls of the chamber, so when you try to lift it up or press it down it creates strong pressure and rubbing.
Use the scoop of either store bought pre-ground stuff, or even better, your own beans you've ground yourself. 
We have our own grinder, and its great for the purpose of Aeropress.  It is a burr mill so you can grind straight to the Aeropress, just as the Aeropress can go straight to the cup. 
The funnel is wide enough so you can put the coffee there without actually spilling any.
---
Goodies Galore!
The first thing we got out of the box was the familiar stirrer and a coffee scoop, both black and plastic.
Next came the funnel, then the actual Aeropress chamber and the plunger (they were packaged together), a plastic filter holder and a bag of filters (there are 350 which is enough to last years) that according to the company can be re-used. 
There was also the much-looked-forward-to high quality tote bag that came with this collection of goodies, which is when I realized that this package is pretty much a coffee-lover's dream gift.  
The tote bag makes this package something which the coffee lover on the go will certainly appreciate, as it is well made and looks sharp to boot.  
This Christmas, look out cousin Paul, because I know what I'm getting you now (Paul is a coffee freak who loves to go camping). 
Anyway, we decided not to re-use them because we prefer buying new ones (they don't cost more than $3), but you can re-use them if you want.
---
Take The Plunge!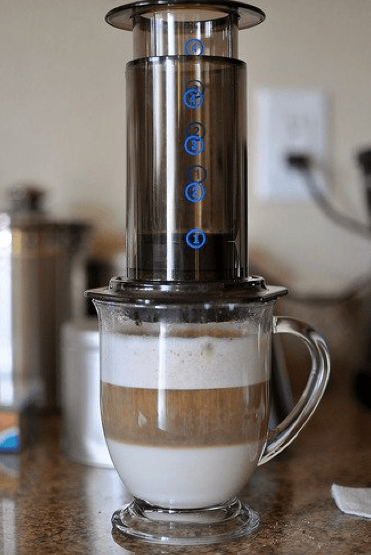 To wrap up – we're impressed, not only by how rich and smooth Aeropress coffee always is, but with the extra totebag, we're ready to take our coffee show on the road here.  Pretty exciting!
You don't have to wait for anything (brewing and wasting time and running up electricity bills) – all you need is a couple of minutes and the coffee is ready. 
I actually really enjoy making lattes for my son with this, who is kind of a latte nut because he loves the latte art.
For a price that is usually lower than $30, I think this is an amazing coffee and espresso maker, and the totebag just makes it that much better.
For those who've never owned one, it doesn't take a lot of space and for sure has only pros and we're glad to recommend it.