Last Updated on
By: Know Your Grinder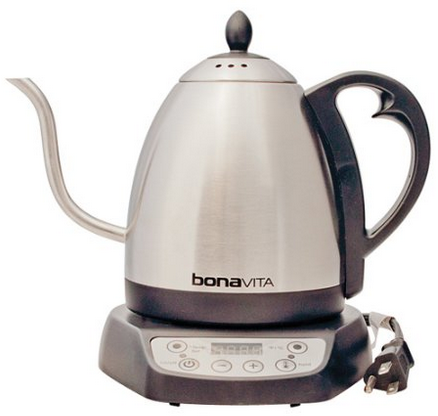 Finding the perfect coffee kettle can be a struggle – something that will boil the water fast, has great pour control, and keeps the the flavor locked in.  
On top of that, we want it to look great, last long, and be supremely durable.  Not much to ask?
In today's review, we look at a kettle called the Bonavita 1-Liter Variable Temperature Digital Electric Gooseneck Kettle, which does an admirable job of fulfilling each of our requirements for what makes a good coffee (or tea) kettle.
The name is long and descriptive and appropriately so are the qualities that this kettle has. The design is modern, minimal, and it adds a nice touch for practically any style of kitchen. 
This Bonavita Gooseneck Kettle is made of brushed stainless steel which should never rust (if that ever happens with a steel kettle, it likely means that the kettle wasn't properly cleaned by the manufacturer).
Luckily, there are no reports of this with the Bonavita here.
Variable Temperature Control
With the help of its 1000 watts of power, the Bonavita boils water quickly and can maintain your water's temperature for up to one hour.  
In this case, quick boiling means about 6 minutes, which, to be honest, is not the fastest boiling time of all the coffee kettles out there, but we feel its quite reasonable.
More important we think is the fact that you can boil water to be a specific temperature, which makes it a great coffee kettle as certain brew styles do ask for specific temperatures.  
This is the essence of the variable temperature feature, which we think is better for coffee brewing than having the ability to boil faster than any other kettle.
The temperature can be adjusted from 140˚-212˚F, and we should note that this product has a commercial UL rating that means its certified safe.
Superior Flow & Direction Control
Specially designed to give more control of the water flow and direction, the Bonavita gooseneck kettle has a one-liter capacity, which most people find to be sufficient as long as they're not expecting a massive kettle.  
The Bonavita here is not the biggest of all kettles.
This kettle comes with six pre-set temperatures, each useful in its own way.  The custom temperature should be set from 140°F and up.  
The Bonavita has a real-time temperature display and heat that can hold the water your desired temperature up to 60 minutes.
This is superb for having warm water in the morning while everyone in your family is getting ready at different times.  
Now everyone can have their tea or coffee with warm water without having to wait for it to boil. It does save precious time during that morning rush.
Gooseneck Spout
The gooseneck spout deserves to be mentioned among the first things people seem to notice and enjoy about this kettle.
The Bonavita Electric has a wonderful design for pour over; its goose-neck spout giving this kettle an elegant look.
The handle is ergonomic and easy to use, and the lid attaches securely although it is not hard to remove.
Temperature Pre-Sets
As we mentioned earlier, the pre-set temperatures are another feature that the Bonavita gooseneck variable temperature electric kettle has.
The kettle comes programmed with six pre-set temperatures; this feature makes it it easy to heat up your water at the ideal heat (whether you need it just warm or boiled). 
There are six pre-set water temperatures built-in for even easier selection.
Bonavita kettle's has a LED display where you can see the water temperature.
Its count-up timer makes it easy to keep track of the brewing process so you can always know how long it will take.
Complaints
One of the things that actually can be a bit impractical is the cord which has been called "short", although since the kettle itself is cordless, that generally solves that issue for most people.
The other common complain with the Bonavita here is that it is too small – being a 1 liter kettle.  Is this too small for your liking?  Only you can decide.
Here is another video review you can watch talking about this particular gooseneck kettle.
Wrapping Up
To sum up, this is a high quality kettle with 1 year manufacturer warranty.
The Bonavita BV382510V Variable Temperature Electric Kettle is completely UL Certified for safety compliance purposes.
It comes in 10.8 x 7.5 x 7.3 inches and weights about 2.8 pounds (fairly light when it is empty). 
For the asking price, we find this to be a great little kettle, and a very practical kitchen utensil.